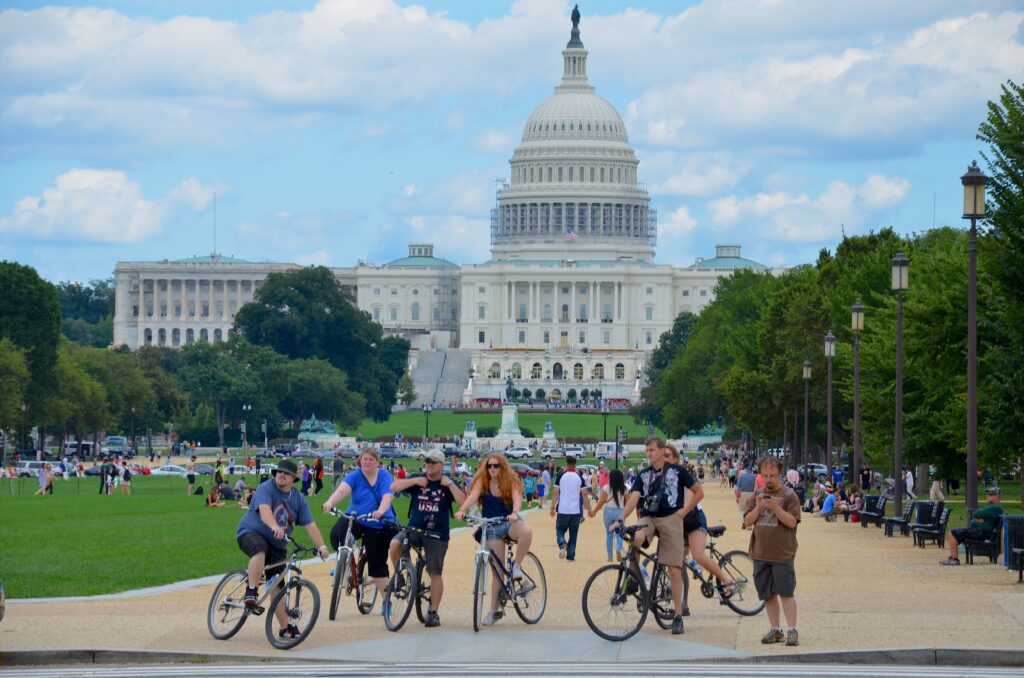 Monuments on the Move: Bike Tour of D.C.
What is the best way to see the monuments of Washington, D.C. at your own leisure? On your own set of wheels. This custom bike tour, led by an expert cyclist and seasoned tour guide, meets your specific needs—whether you are single, a couple, or a family.  Adult-only guests may prefer to cover more terrain, linger to read inscriptions at specific sites, or make certain stops that would not appeal to children. Begin your trip at your selected departure time near the National Mall. Your guide will fit you for a hybrid comfort or classic bike. Begin your journey at a comfortable pace, following D.C.'s safe dedicated bike lanes along easy-to-navigate flat surfaces. Stop along the way to hear interesting facts about the historic landmarks you will pass. See the Washington Monument, a towering 555-foot stone obelisk honoring the first U.S. President, George Washington. View the imposing neo-classical Lincoln Memorial and stop to read awe-inspiring quotes at the Martin Luther King Jr. Memorial. Ponder the tragedy of the lives lost in Vietnam at the Vietnam Veterans Memorial, featuring more than 58,000 names of the people who served in that conflict. At the elliptical World War II Memorial, stone architecture and bronze sculptures honor the lives lost abroad and sacrifices made on the home front. See the stunning symmetry and quotes from Franklin D. Roosevelt and Harry S. Truman. This moving tribute to the "The Greatest Generation" designed by Friedrich St. Florian, former chief of the Rhode Island School of Design. Your tour concludes at your original starting point.
Monuments on the Move : Visite de D.C. à vélo
Quel est le meilleur moyen de voir les monuments de Washington, D.C. à votre guise ? Sur vos propres roues! Cette visite à vélo menée par un cycliste expert et un guide touristique chevronné, répond à vos besoins spécifiques, que vous soyez seul, en couple ou en famille.  Commencez votre excursion à l'heure de départ choisie, près du National Mall. Votre guide vous équipera d'un vélo hybride confort ou un vélo classique. Commencez votre voyage à un rythme confortable, en suivant les pistes cyclables sécurisées de D.C. sur des surfaces plates faciles à naviguer. Arrêtez-vous en cours de route pour entendre des faits intéressants sur les monuments historiques que vous croiserez. Admirez le Washington Monument, un obélisque de pierre de 555 pieds de haut qui rend hommage au premier président des États-Unis, George Washington. Admirez l'imposant Lincoln Memorial de style néoclassique et arrêtez-vous pour lire des citations impressionnantes au Martin Luther King Jr. Memorial. Réfléchissez à la tragédie des vies perdues au Vietnam au Vietnam Veterans Memorial, où figurent plus de 58 000 noms de personnes ayant servi dans ce conflit. Au mémorial elliptique de la Seconde Guerre mondiale, l'architecture en pierre et les sculptures en bronze rendent hommage aux vies perdues à l'étranger et aux sacrifices consentis sur le front intérieur. Admirez l'étonnante symétrie et les citations de Franklin D. Roosevelt et Harry S. Truman. Cet hommage émouvant à la "The Greatest Generation" a été conçu par Friedrich St. Florian, ancien chef de la Rhode Island School of Design. Votre visite se termine à votre point de départ initial.
Monumentos en movimiento: Recorrido en bicicleta por D.C.
¿Cuál es la mejor manera de ver los monumentos de Washington D.C. a su aire? Sobre sus propias ruedas. Este recorrido en bicicleta personalizada, dirigida por un experto ciclista y un experimentado guía turístico, se adapta a sus necesidades específicas, ya sea que esté solo, en pareja o en familia.  Los huéspedes adultos pueden preferir cubrir más terreno, detenerse a leer inscripciones en sitios específicos o hacer ciertas paradas que no serían atractivas para los niños. Comience su viaje a la hora de salida seleccionada cerca del National Mall. Su guía le ajustará una bicicleta híbrida de confort o clásica. Comience su viaje a un ritmo cómodo, siguiendo los carriles bici seguros de D.C. a lo largo de superficies planas fáciles de recorrer. Deténgase en el camino para conocer datos interesantes sobre los monumentos históricos por los que pasará. Contemple el Monumento a Washington, un imponente obelisco de piedra de 1,5 metros de altura que rinde homenaje al primer presidente de Estados Unidos, George Washington. Contemple el imponente monumento neoclásico a Lincoln y deténgase a leer las impresionantes citas del monumento a Martin Luther King Jr. Reflexione sobre la tragedia de las vidas perdidas en Vietnam en el Monumento a los Veteranos de Vietnam, con más de 58.000 nombres de personas que sirvieron en ese conflicto. En el monumento elíptico a la Segunda Guerra Mundial, la arquitectura de piedra y las esculturas de bronce honran las vidas perdidas en el extranjero y los sacrificios realizados en el frente interno. Contemple la impresionante simetría y las citas de Franklin D. Roosevelt y Harry S. Truman. Este conmovedor homenaje a la "Generación más grande" fue diseñado por Friedrich St. Florian, antiguo director de la Escuela de Diseño de Rhode Island. La visita concluye en el punto de partida original.
Monumenti in movimento: tour in bicicletta di Washington.
Qual è il modo migliore per visitare i monumenti di Washington D.C. a proprio piacimento? Sulle proprie ruote. Questo tour personalizzato in bicicletta, condotto da un ciclista esperto e da una guida esperta, soddisfa le vostre esigenze specifiche, che siate single, coppie o famiglie.  Gli ospiti adulti possono preferire di percorrere un terreno più ampio, soffermarsi a leggere le iscrizioni in determinati siti o fare alcune soste che non sarebbero gradite ai bambini. Iniziate il viaggio all'orario di partenza prescelto vicino al National Mall. La guida vi farà provare una bicicletta ibrida comfort o classica. Iniziate il viaggio a un ritmo confortevole, seguendo le sicure piste ciclabili dedicate lungo superfici piane facili da percorrere. Fermatevi lungo il percorso per ascoltare fatti interessanti sui monumenti storici che attraverserete. Ammirate il Washington Monument, un imponente obelisco di pietra di 555 piedi che onora il primo presidente degli Stati Uniti, George Washington. Ammirate l'imponente Lincoln Memorial, in stile neoclassico, e fermatevi a leggere le citazioni del Martin Luther King Jr. Memorial. Riflettete sulla tragedia delle vite perse in Vietnam al Vietnam Veterans Memorial, con più di 58.000 nomi di persone che hanno prestato servizio in quel conflitto. Nel Memoriale della Seconda Guerra Mondiale, di forma ellittica, l'architettura in pietra e le sculture in bronzo onorano le vite perse all'estero e i sacrifici compiuti sul fronte interno. Ammirate la straordinaria simmetria e le citazioni di Franklin D. Roosevelt e Harry S. Truman. Questo commovente tributo alla "Greatest Generation" è stato progettato da Friedrich St. Florian, ex capo della Rhode Island School of Design. Il tour si conclude al punto di partenza.