Surf Initiation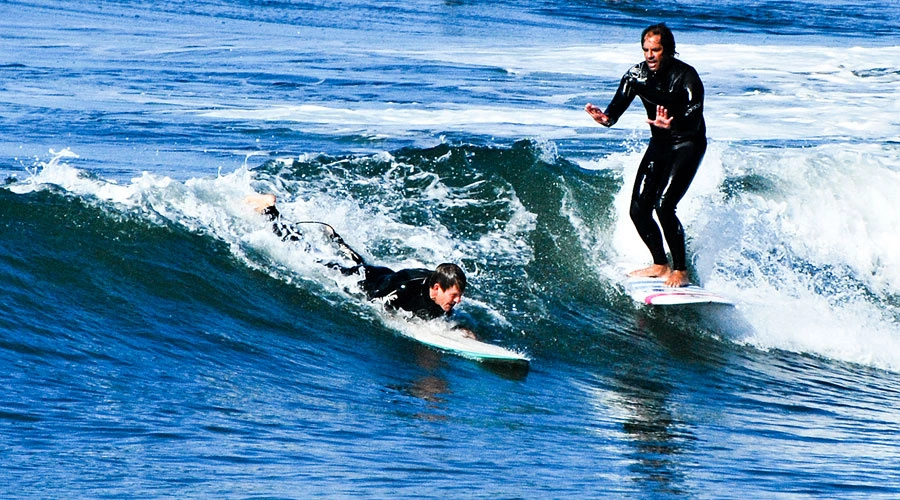 Mad Tours & Events offers you a 1.5-hour surfing lesson (a.k.a. initiation) on a mythical beach of Los Angeles! Discover the eccentric spirit of Venice Beach while learning to ride incredible waves. This course is suitable for beginner, intermediate and advanced surfers. You might even discover a new passion that could eventually take you to the most radical waves around the globe alongside Kelly Slater. Wearing a fashionable Malibu swimsuit is recommended to look great on the beach when you get out of the water.
Venice Beach is a buzzing bohemian beach town with funky shops, street performers and colorful murals. Its Abbot Kinney Boulevard features foodie hot spots, stylish boutiques and coffee bars. This iconic site attracts international visitors and the two-mile Boardwalk garners over 10 million visitors per year as one of the region's most popular tourist attractions. Its fishing pier, skate plaza, bike path, children's play areas and other amenities are open to the public.
Mad Tours & Events vous propose une leçon de surf (alias initiation) d'une heure et demie sur une plage mythique de Los Angeles! Découvrez l'esprit excentrique de Venice Beach tout en apprenant à surfer sur des vagues incroyables. Ce cours convient aux surfeurs débutants, intermédiaires et avancés. Vous pourriez même vous découvrir une nouvelle passion qui pourrait éventuellement vous conduire sur les vagues les plus radicales du globe aux côtés de Kelly Slater. Il est recommandé de porter un maillot de bain à la mode de Malibu pour avoir fière allure sur la plage lorsque vous sortez de l'eau.
Venice Beach est une ville bohème et branchée, avec ses boutiques funky, ses artistes de rue et ses peintures murales colorées. Sur son Abbot Kinney Boulevard, vous trouverez des lieux de restauration, des boutiques élégantes et des cafés. Ce quartier emblématique attire des visiteurs du monde entier et la Boardwalk, longue de deux miles, attire plus de 10 millions de visiteurs par an, ce qui en fait l'une des attractions touristiques les plus populaires de la région. Sa plage, sa place de skate, sa piste cyclable, ses aires de jeux pour enfants et d'autres aménagements sont ouverts au public.
Mad Tours & Events le ofrece una lección de surf de 1,5 horas (también conocida como iniciación) en una playa mítica de Los Ángeles. Descubra el espíritu excéntrico de Venice Beach mientras aprende a montar olas increíbles. Este curso es apto para surfistas principiantes, intermedios y avanzados. Puede que incluso descubras una nueva pasión que podría llevarte eventualmente a las olas más radicales de todo el mundo junto a Kelly Slater. Se recomienda llevar un traje de baño de moda en Malibú para lucirse en la playa al salir del agua.
Venice Beach es una bulliciosa y bohemia ciudad playera con tiendas de moda, artistas callejeros y coloridos murales. Su bulevar Abbot Kinney cuenta con lugares de interés gastronómico, elegantes boutiques y cafés. Este emblemático lugar atrae a visitantes internacionales y el paseo marítimo de tres kilómetros de longitud recibe más de 10 millones de visitantes al año como una de las atracciones turísticas más populares de la región. Su muelle de pesca, la plaza de patinaje, el carril bici, las zonas de juego para niños y otros servicios están abiertos al público.
Mad Tours & Events vi offre una lezione di surf di 1,5 ore (detta anche iniziazione) su una mitica spiaggia di Los Angeles! Scoprite lo spirito eccentrico di Venice Beach mentre imparate a cavalcare onde incredibili. Questo corso è adatto a surfisti principianti, intermedi e avanzati. Potreste anche scoprire una nuova passione che potrebbe portarvi sulle onde più radicali del mondo al fianco di Kelly Slater. Si consiglia di indossare un costume da bagno alla moda di Malibu per essere bellissimi sulla spiaggia una volta usciti dall'acqua.
Venice Beach è una vivace città balneare bohémien con negozi funky, artisti di strada e murales colorati. L'Abbot Kinney Boulevard è caratterizzato da punti di ristoro, boutique alla moda e bar. Questo luogo iconico attrae visitatori internazionali e il Boardwalk, lungo due miglia, raccoglie oltre 10 milioni di visitatori all'anno ed è una delle attrazioni turistiche più popolari della regione. Il molo per la pesca, la piazza dei pattini, la pista ciclabile, le aree gioco per bambini e altri servizi sono aperti al pubblico.