Bike tour of Venice & Santa Monica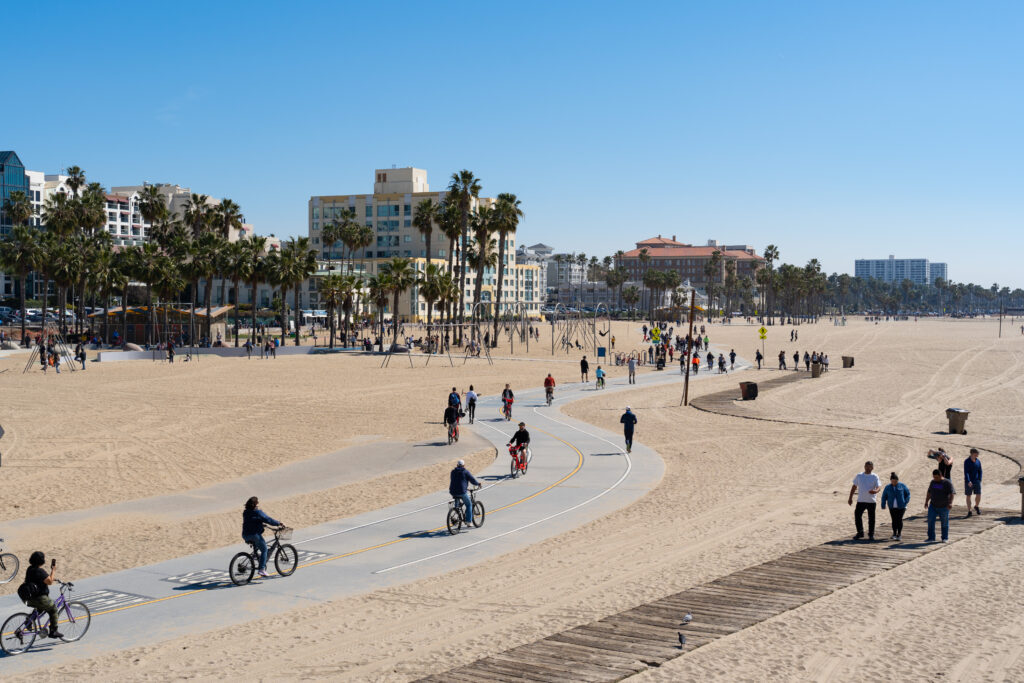 Venice Beach has its own culture! Let's hop on our bikes and check out the muscle boys and skateboarders as we soak up the funky, bohemian, free-spirited atmosphere where your guide will regale you with hilarious stories. Plus, it's the roller skating capital of the world!
This iconic site attracts around 28,000 people to the Venice Beach Boardwalk daily. The two-mile Boardwalk garners over 10 million visitors per year and is one of the region's most popular tourist attractions. Its fishing pier, world-renowned skate plaza, bike path, children's play areas and other amenities are open to the public.
We'll then meander through the canals of laid-back Santa Monica to admire the local street art, see the beautiful homes, and understand the history that created this amazing place. Of course, we won't forget to stroll down Abbot-Kinney, the hippest street in the USA. Pedal and explore the scenic waterfront on this 2.5-hour tour.
Santa Monica is the cultural center of southern California, with loads of high-quality art galleries, fun stores and famous theater productions. Did you know that it was here that Route 66 reached the end of its 2,000-mile journey from Chicago? A sign commemorates the "End of the Road" on the Santa Monica Pier. Santa Monica Pier is home to the Pacific Park amusement park, historic Looff Hippodrome Carousel and Santa Monica Pier Aquarium. In the city center, Bergamot Station houses multiple art galleries. Its eight neighborhoods offer a mix of shopping, dining, entertainment and outdoor adventures.
Venice Beach a sa propre culture ! Sautons sur nos vélos et observons les muscle boys et les skateboarders tout en nous imprégnant de l'atmosphère funky, bohème et libérée où votre guide vous régalera d'histoires amusantes. De plus, c'est la capitale mondiale du patinage à roulettes !
Ce site emblématique attire environ 28 000 personnes par jour sur la promenade de Venice Beach. Cette promenade de trois kilomètres accueille plus de 10 millions de visiteurs par an et constitue l'une des attractions touristiques les plus populaires de la région. Son quai, sa place de skate de renommée mondiale, sa piste cyclable, ses aires de jeux pour enfants et d'autres aménagements sont ouverts au public.
Nous serpenterons ensuite à travers les canaux de Santa Monica pour admirer la street art locale, voir les belles maisons et comprendre l'histoire qui a créé cet endroit étonnant. Bien sûr, nous n'oublierons pas de nous promener dans Abbot-Kinney, la rue la plus branchée des États-Unis. Pédalez et explorez le bord de mer pittoresque lors de cette visite de 2,5 heures.
Santa Monica est le centre culturel du sud de la Californie, avec de nombreuses galeries d'art de qualité, des magasins sympas et des productions théâtrales célèbres. Saviez-vous que c'est ici que la Route 66 a atteint la fin de son voyage de 3 000 km depuis Chicago ? Un panneau commémore la "fin de la route" sur le Santa Monica Pier. Le Santa Monica Pier abrite le parc d'attractions Pacific Park, le carrousel historique Looff Hippodrome et son Aquarium. Dans le centre-ville, la station Bergamot abrite de nombreuses galeries d'art. Ses huit quartiers offrent un mélange de magasins, de restaurants, de divertissements et d'aventures en plein air.
Venice Beach tiene su propia cultura. Subamos a nuestras bicicletas y veamos a los musculitos y a los skaters mientras nos empapamos del ambiente funky, bohemio y de espíritu libre en el que tu guía te obsequiará con divertidas historias. Además, es la capital mundial del patinaje.
Este emblemático lugar atrae diariamente a unas 28.000 personas al paseo marítimo de Venice Beach. El paseo marítimo, de tres kilómetros, recibe más de 10 millones de visitantes al año y es una de las atracciones turísticas más populares de la región. Su muelle de pesca, la mundialmente conocida plaza de patinaje, el carril bici, las zonas de juego para niños y otros servicios están abiertos al público.
A continuación, recorreremos los canales de la relajada Santa Mónica para admirar el arte callejero local, ver las hermosas casas y comprender la historia que creó este increíble lugar. Por supuesto, no nos olvidaremos de pasear por Abbot-Kinney, la calle más moderna de Estados Unidos. Pedalee y explore el pintoresco paseo marítimo en este recorrido de 2,5 horas.
Santa Mónica es el centro cultural del sur de California, con un montón de galerías de arte de gran calidad, tiendas divertidas y famosas producciones teatrales. ¿Sabía que fue aquí donde la Ruta 66 llegó al final de su viaje de 3.000 kilómetros desde Chicago? Un cartel conmemora el "Fin de la Ruta" en el muelle de Santa Mónica. El muelle de Santa Mónica alberga el parque de atracciones Pacific Park, el histórico carrusel Looff Hippodrome y el acuario Santa Monica Pier. En el centro de la ciudad, Bergamot Station alberga múltiples galerías de arte. Sus ocho barrios ofrecen una mezcla de tiendas, restaurantes, entretenimiento y aventuras al aire libre.
Venice Beach ha una cultura tutta sua! Saltiamo in sella alle nostre biciclette e osserviamo i muscle boys e gli skateboarders mentre ci immergiamo nell'atmosfera funky, bohémien e libera, dove la vostra guida vi racconterà storie esilaranti. Inoltre, è la capitale mondiale del pattinaggio a rotelle!
Questo luogo iconico attira ogni giorno circa 28.000 persone sul Venice Beach Boardwalk. Le due miglia di Boardwalk raccolgono oltre 10 milioni di visitatori all'anno e sono una delle attrazioni turistiche più popolari della regione. Il suo molo per la pesca, la piazza per lo skate di fama mondiale, la pista ciclabile, le aree gioco per bambini e altri servizi sono aperti al pubblico.
Poi ci inoltreremo nei canali della rilassata Santa Monica per ammirare l'arte di strada locale, vedere le bellissime case e comprendere la storia che ha creato questo luogo straordinario. Naturalmente, non dimenticheremo di passeggiare lungo Abbot-Kinney, la strada più hippy degli Stati Uniti. Pedalate ed esplorate il lungomare panoramico in questo tour di 2,5 ore.
Santa Monica è il centro culturale della California meridionale, con un sacco di gallerie d'arte di alta qualità, negozi divertenti e famose produzioni teatrali. Sapevate che qui la Route 66 giunse alla fine del suo viaggio di 2.000 miglia da Chicago? Un cartello ricorda la "fine della strada" sul molo di Santa Monica. Il molo di Santa Monica ospita il parco divertimenti Pacific Park, lo storico carosello Looff Hippodrome e il Santa Monica Pier Aquarium. Nel centro della città, Bergamot Station ospita numerose gallerie d'arte. Gli otto quartieri offrono un mix di negozi, ristoranti, divertimenti e avventure all'aria aperta.