Bike tour discovery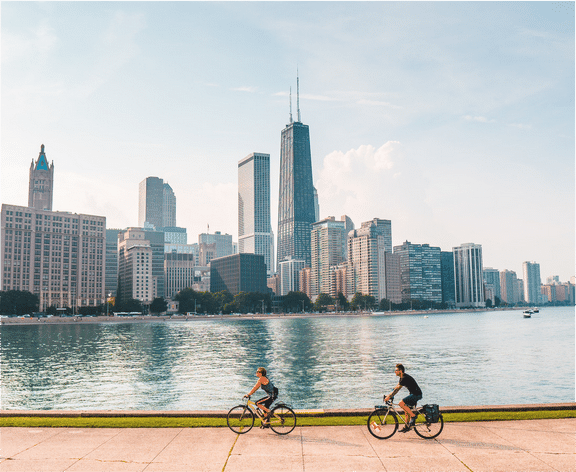 Bike Tour: Chicago's Fun and Friendly neighborhoods
On your marks, get set, pedal! Get ready to ride through distinct Chicago neighborhoods. Along the way you will enjoy leisure, culture, and nature … all while visiting green places in an eco-friendly way. Your guide will be a native Chicagoan who knows all the nooks and crannies of the city and who will share many anecdotes. We will pass by the famous wealthy Gold Coast historic district, with its beautiful mansions, set alongside row houses and high rises. And we will see the Magnificent Mile section of the Gold Coast, known for its many restaurants and store headquarters; we apologize that we don't have time to shop! Along your tour, be prepared to have fun; we will ask you to stop and DANCE your heart out! But leave the pink tutu at home—wear sneakers and comfortable activewear.
Tour à vélo : Les quartiers amusants et conviviaux de Chicago
A vos marques, prêts, pédalez ! Préparez-vous à rouler à travers des quartiers distincts de Chicago. En chemin, vous profiterez des loisirs, de la culture et de la nature… tout en visitant des lieux verts de manière écologique. Votre guide sera un habitant de Chicago qui connaît tous les coins et recoins de la ville et qui vous fera partager de nombreuses anecdotes. Nous passerons par le célèbre et riche quartier historique de la Gold Coast, avec ses belles demeures, côtoyant maisons en rangée et tours d'habitation. Et nous verrons la section Magnificent Mile, connue pour ses nombreux restaurants et sièges de magasins ; nous nous excusons de ne pas avoir le temps de faire du shopping ! Tout au long de votre visite, préparez-vous à vous amuser ; nous vous demanderons de vous arrêter et de danser à cœur ouvert ! Mais laissez le tutu rose à la maison – portez des baskets et des vêtements de sport confortables.
Recorrido en bicicleta: Los divertidos y acogedores barrios de Chicago
En sus marcas, listos, ¡pedaleen! Prepárese para recorrer distintos barrios de Chicago. A lo largo del camino disfrutará del ocio, la cultura y la naturaleza… todo ello mientras visita lugares verdes de forma ecológica. Su guía será un nativo de Chicago que conoce todos los rincones de la ciudad y que compartirá muchas anécdotas. Pasaremos por el famoso y adinerado distrito histórico de la Costa Dorada, con sus hermosas mansiones, junto a casas adosadas y rascacielos. Y veremos la sección Magnificent Mile de la Gold Coast, conocida por sus numerosos restaurantes y sedes de tiendas; ¡nos disculpamos por no tener tiempo para ir de compras! A lo largo de su recorrido, prepárese para divertirse; le pediremos que se detenga y baile con ganas. Pero deje el tutú rosa en casa: lleve zapatillas de deporte y ropa activa cómoda.
Tour in bicicletta: I quartieri divertenti e amichevoli di Chicago
In sella, pronti a pedalare! Preparatevi a pedalare attraverso i diversi quartieri di Chicago. Lungo il percorso potrete godere di svago, cultura e natura… il tutto visitando luoghi verdi in modo ecologico. La vostra guida sarà un nativo di Chicago che conosce tutti gli angoli della città e che condividerà molti aneddoti. Passeremo per il famoso e ricco quartiere storico della Gold Coast, con i suoi splendidi palazzi, affiancati da case a schiera e grattacieli. Vedremo anche la sezione Magnificent Mile della Gold Coast, nota per i suoi numerosi ristoranti e negozi; ci scusiamo se non abbiamo tempo per fare shopping! Durante il tour, preparatevi a divertirvi: vi chiederemo di fermarvi e di ballare a più non posso! Ma lasciate a casa il tutù rosa, indossate scarpe da ginnastica e un abbigliamento sportivo e comodo.