West Hollywood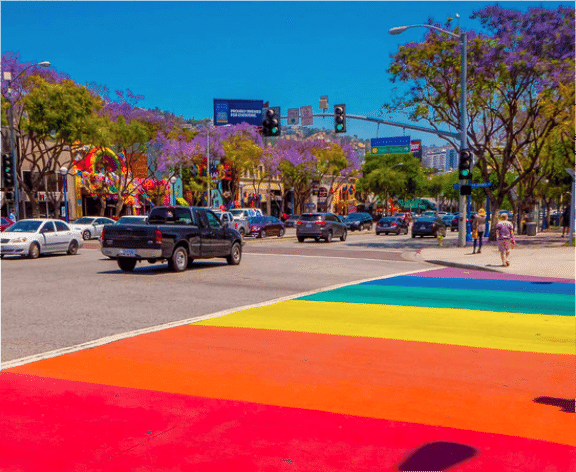 Want to make your friends jealous? You'll have the opportunity to tell them all the hidden secrets of the cool city of West Hollywood by taking this 2.5-hour tour. This city within Los Angeles is 4 by 5 km. This trendy and colorful district is not to be missed during your stay here!
West Hollywood, also known as WeHo, is the district par excellence known for its lively nightlife. Visit the legendary Sunset Strip, which houses not only the famous Chateau Marmont, a real celebrity hangout, but also many comedy clubs and concert halls such as the legendary Whiskey a Go Go and The Abbey, a superb club not to be missed in the evening. Dotted with rainbow pride flags, Santa Monica Boulevard is home to tons of gay bars, dance clubs and hip stores. WeHo also boasts some of the hottest restaurants in town. This town has an atypical history with many crazy anecdotes about the showbiz stars who live there, and our guide will be happy to share them with you.
Vous voulez en mettre plein la vue à vos amis et les rendre jaloux ? Vous aurez l'occasion de leur raconter tous les secrets caches de la ville de West Hollywood en la visitant pendant 2h30. Cette ville au sein de même de Los Angeles qui est de 4 km sur 5 km et qui est le quartier tendance à ne pas manquer lors de votre séjour ici !
West Hollywood que l'on appelle WeHO est le quartier branché par excellence connu pour sa vie nocturne animée. Nous y visiterons le légendaire Sunset Strip qui abrite le célèbre Château Marmont, un réel repaire de célébrités mais aussi de nombreux clubs de comédie et des salles de concert comme le légendaire Whiskey a Go Go ou encore L'Abbaye, superbe club à ne pas manquer en soirée. Santa Monica Boulevard, parsemé de drapeaux arc-en-ciel, abrite un certain nombre de bars, de clubs de danse et de boutiques gays. WeHo propose également certains des restaurants les plus branchés de la ville. Cette petite ville qui a une histoire plutôt atypique avec de nombreuses anecdotes sur les stars qui y ont séjourné depuis tant d'année ! Notre guide se fera un plaisir de les partager avec vous.
¿Quiere dar envidia a sus amigos? Tendrá la oportunidad de contarles todos los secretos ocultos de la genial ciudad de West Hollywood con este recorrido de 2,5 horas. Esta ciudad dentro de Los Ángeles tiene una extensión de 4 por 5 km. Este moderno y colorido distrito no debe perderse durante su estancia aquí.
West Hollywood, también conocido como WeHo, es el distrito por excelencia conocido por su animada vida nocturna. Visite el legendario Sunset Strip, que alberga no sólo el famoso Chateau Marmont, un auténtico lugar de reunión de famosos, sino también muchos clubes de comedia y salas de conciertos como el legendario Whiskey a Go Go y The Abbey, un magnífico club que no debe perderse por la noche. El bulevar de Santa Mónica, salpicado de banderas del orgullo del arco iris, alberga montones de bares gay, clubes de baile y tiendas de moda. WeHo también cuenta con algunos de los mejores restaurantes de la ciudad. Esta ciudad tiene una historia atípica con muchas anécdotas locas sobre las estrellas del mundo del espectáculo que viven allí, y nuestro guía estará encantado de compartirlas con usted.
Volete far ingelosire i vostri amici? Con questo tour di 2,5 ore avrete l'opportunità di svelare loro tutti i segreti nascosti dell'affascinante città di West Hollywood. Questa città all'interno di Los Angeles si estende per 4,5 km. Questo quartiere alla moda e colorato è da non perdere durante il vostro soggiorno qui!
West Hollywood, noto anche come WeHo, è il quartiere per eccellenza conosciuto per la sua vivace vita notturna. Visitate la leggendaria Sunset Strip, che ospita non solo il famoso Chateau Marmont, un vero e proprio ritrovo di celebrità, ma anche numerosi comedy club e sale da concerto come il leggendario Whiskey a Go Go e The Abbey, un superbo club da non perdere la sera. Costellata di bandiere dell'orgoglio arcobaleno, Santa Monica Boulevard ospita tonnellate di bar gay, locali da ballo e negozi alla moda. WeHo vanta anche alcuni dei ristoranti più alla moda della città. Questa città ha una storia atipica con molti aneddoti assurdi sulle star dello spettacolo che vi abitano, e la nostra guida sarà felice di condividerli con voi.