AN AMISH EXPERIENCE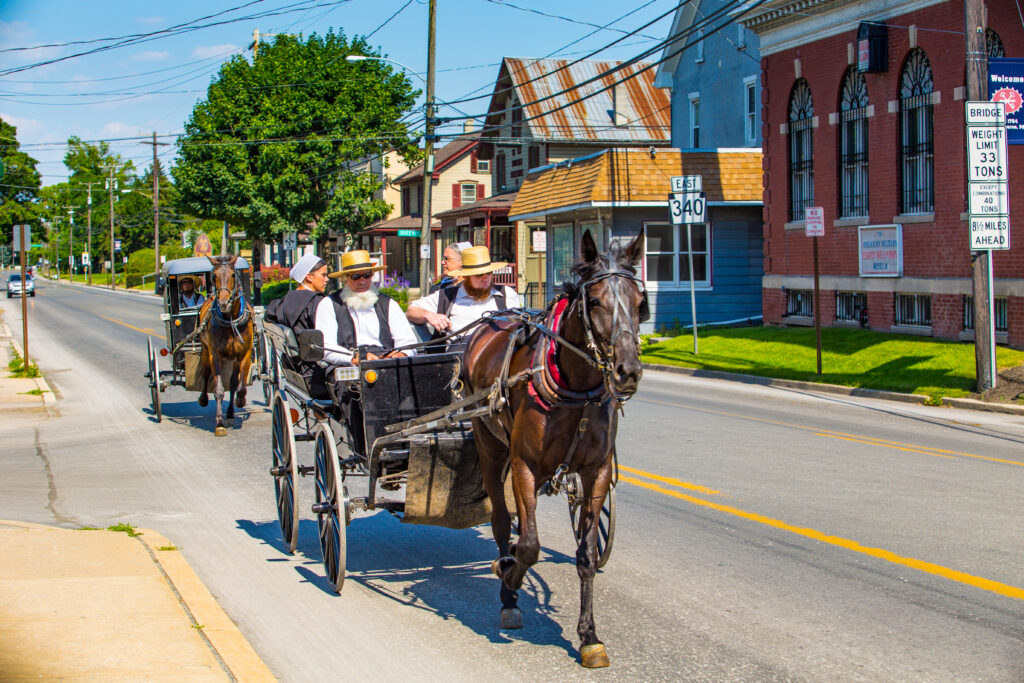 The Heart of Pennsylvania Dutch Country: Tour "Amish Village" in Lancaster
Travel back in time to be with the Amish, a German religious group who first settled in Pennsylvania Dutch country in the 1720s. Today, most Amish still live by traditional rules established centuries ago—many Amish people do not even use typical electricity from the grid (they do use a few modern workarounds such as batteries though!) At the Amish Village in Lancaster, PA you can see first-hand how a traditional Amish farm and home operate. Take a tour of this 12-acre property, which features a farmhouse, barn, schoolhouse, and blacksmith shop, all originally built in 1840. The people who work at this family-run business are all either currently or formerly Amish. These experts can share facts about the history, lifestyle, and culture of the Amish. The best part—you will eat lunch onsite with and prepared by an Amish family. Enjoy!
Le cœur du pays hollandais de Pennsylvanie : Visite du "village amish" de Lancaster
Voyagez dans le temps pour côtoyer les Amish, un groupe religieux allemand qui s'est installé dans le pays hollandais de Pennsylvanie dans les années 1720. Aujourd'hui, la plupart des Amish vivent encore selon les règles traditionnelles établies il y a des siècles – beaucoup d'entre eux n'utilisent même pas l'électricité du réseau (ils utilisent cependant quelques moyens modernes comme les piles !) Au village Amish de Lancaster, PA, vous pourrez voir de vos propres yeux comment fonctionnent une ferme et une maison Amish traditionnelles. Faites le tour de cette propriété de 12 acres, qui comprend une ferme, une grange, une école et une forge, toutes construites en 1840. Les personnes qui travaillent dans cette entreprise familiale sont toutes Amish ou l'ont été. Ces experts peuvent partager des faits sur l'histoire, le mode de vie et la culture des Amish. Le plus beau, c'est que vous déjeunerez avec une famille amish et préparé par elle. Profitez-en!
El corazón de Pennsylvania Dutch Country: Visita al "Pueblo Amish" en Lancaster
Viaje al pasado para estar con los amish, un grupo religioso alemán que se estableció por primera vez en el país holandés de Pensilvania en la década de 1720. Hoy en día, la mayoría de los amish siguen viviendo según las normas tradicionales establecidas hace siglos; muchos amish ni siquiera utilizan la electricidad típica de la red (aunque sí utilizan algunas soluciones modernas, como las baterías). En la Aldea Amish de Lancaster, Pensilvania, podrá ver de primera mano cómo funcionan una granja y un hogar amish tradicionales. Recorra esta propiedad de 12 acres, que cuenta con una granja, un granero, una escuela y una herrería, todo ello construido originalmente en 1840. Todas las personas que trabajan en este negocio familiar son o han sido amish. Estos expertos pueden compartir datos sobre la historia, el estilo de vida y la cultura de los amish. Lo mejor de todo es que comerá en el lugar con una familia amish y preparado por ella. Disfrute.
Il cuore della Pennsylvania Dutch Country: Visita al "Villaggio Amish" di Lancaster
Viaggiate indietro nel tempo per stare con gli Amish, un gruppo religioso tedesco che si stabilì per la prima volta nella Pennsylvania Dutch Country nel 1720. Oggi, la maggior parte degli Amish vive ancora secondo le regole tradizionali stabilite secoli fa; molti Amish non usano nemmeno l'elettricità tipica della rete elettrica (usano però alcuni accorgimenti moderni, come le batterie!) All'Amish Village di Lancaster, in Pennsylvania, potrete vedere di persona come funzionano una fattoria e una casa Amish tradizionali. Fate un giro in questa proprietà di 12 acri, che ospita una fattoria, un fienile, una scuola e un'officina di fabbro, tutti costruiti originariamente nel 1840. Le persone che lavorano in questa azienda a conduzione familiare sono tutte attualmente o precedentemente Amish. Questi esperti possono raccontare la storia, lo stile di vita e la cultura degli Amish. La parte migliore è che pranzerete in loco con una famiglia Amish, che vi preparerà il pranzo. Buon divertimento!