The French Quarter by Foot (Private tour)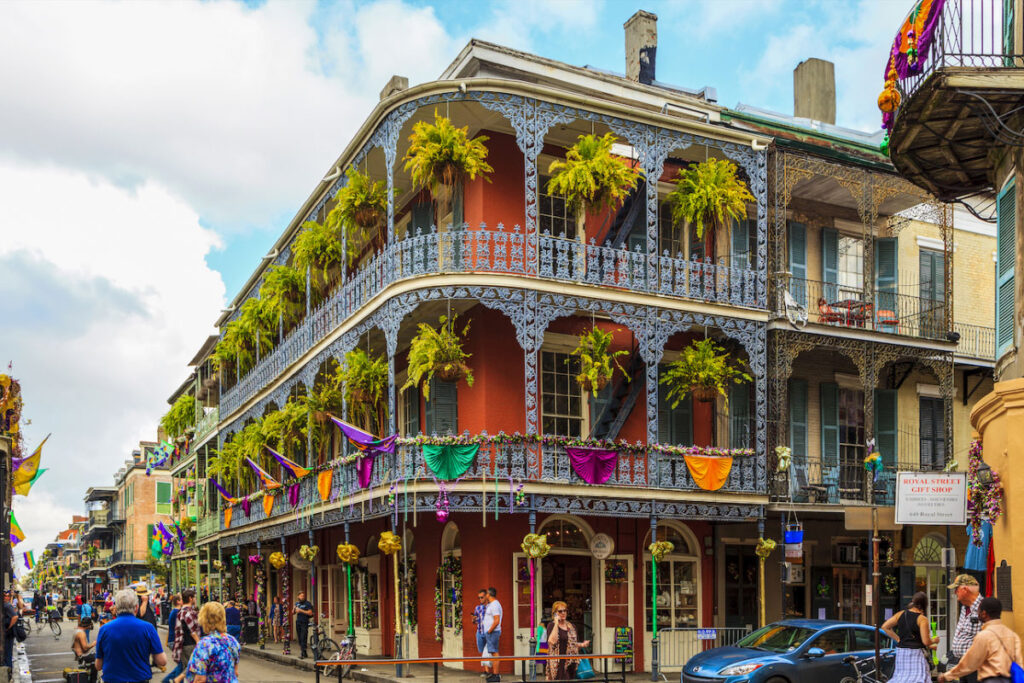 Highlights: St. Louis Cathedral, Jackson Square, Bourbon Street, and more… 
Get ready to see the hidden gems of the beguiling city of New Orleans in the best way possible: on foot. Your tour guide will begin by giving you some perspective on New Orleans with a brief overview of the city's storied past. Then be prepared to step back in time, as your tour guide leads you from the noisy and infamous Bourbon Street, home to jazz clubs and street performers to peaceful moments in hidden, quiet courtyards and quaint alleyways. You will be inspired as you pass colorful homes featuring lush balconies draped with plants. Your guide will also bring you to such famous sites as Saint Louis Cathedral, Jackson Square, and the Mississippi River front.  At the tour's end, ask your guide to point you to several possible adventures.  Eager to find a hidden gem from the past? The six-mile Magazine Street, lined with antique shops to browse, starts off in the French Quarter. Want to see Napoleon Bonaparte's death mask? The Cabildo, a former seat of Spanish rule, near Jackson Square features this and other surprises.
Points forts : La cathédrale Saint-Louis, Jackson Square, Bourbon Street, et plus encore… 
Préparez-vous à découvrir les joyaux cachés de la séduisante ville de la Nouvelle-Orléans de la meilleure façon qui soit : à pied. Votre guide touristique commencera par vous donner une idée de la Nouvelle-Orléans en vous donnant un bref aperçu du passé historique de la ville. Ensuite, préparez-vous à remonter le temps, car votre guide vous conduira de la bruyante et tristement célèbre Bourbon Street, où se trouvent les clubs de jazz et les artistes de rue, à des moments paisibles dans des cours cachées et tranquilles et des ruelles pittoresques. Vous serez inspiré en passant devant des maisons colorées aux balcons luxuriants drapés de plantes. Votre guide vous fera également découvrir des sites célèbres tels que la cathédrale Saint-Louis, la place Jackson et le front du Mississippi.  À la fin de la visite, demandez à votre guide de vous indiquer plusieurs aventures possibles.  Vous avez envie de découvrir un joyau caché du passé ? Les six miles de Magazine Street, bordés de magasins d'antiquités à parcourir, commencent dans le quartier français. Vous voulez voir le masque mortuaire de Napoléon Bonaparte ? Le Cabildo, un ancien siège de la domination espagnole, près de Jackson Square, vous réserve cette surprise et bien d'autres encore.
Lo más destacado: La Catedral de San Luis, Jackson Square, Bourbon Street y mucho más… 
Prepárese para ver las joyas ocultas de la seductora ciudad de Nueva Orleans de la mejor manera posible: a pie. Su guía turístico comenzará dándole una perspectiva de Nueva Orleans con un breve resumen del pasado histórico de la ciudad. A continuación, prepárese para retroceder en el tiempo, mientras su guía turístico le lleva desde la ruidosa e infame Bourbon Street, hogar de clubes de jazz y artistas callejeros, hasta momentos de tranquilidad en patios ocultos y tranquilos y callejones pintorescos. Se sentirá inspirado al pasar por casas de colores con exuberantes balcones cubiertos de plantas. Su guía también le llevará a lugares famosos como la Catedral de San Luis, Jackson Square y el frente del río Misisipi.  Al final del recorrido, pida a su guía que le indique varias aventuras posibles.  ¿Desea encontrar una joya oculta del pasado? La calle Magazine, de seis millas de longitud y repleta de tiendas de antigüedades, comienza en el Barrio Francés. ¿Quiere ver la máscara mortuoria de Napoleón Bonaparte? En el Cabildo, antigua sede del gobierno español, cerca de Jackson Square, encontrará ésta y otras sorpresas.
Punti salienti: Cattedrale di St. Louis, Jackson Square, Bourbon Street e altro ancora… 
Preparatevi a scoprire le gemme nascoste dell'affascinante città di New Orleans nel miglior modo possibile: a piedi. La vostra guida inizierà a darvi una prospettiva su New Orleans con una breve panoramica del passato storico della città. Preparatevi poi a fare un salto indietro nel tempo, mentre la guida vi condurrà dalla rumorosa e famigerata Bourbon Street, sede di jazz club e artisti di strada, a momenti di pace in cortili nascosti e tranquilli e vicoli caratteristici. Sarete ispirati dal passaggio davanti a case colorate con balconi lussureggianti ricoperti di piante. La guida vi porterà anche in luoghi famosi come la Cattedrale di Saint Louis, Jackson Square e il lungofiume del Mississippi.  Al termine del tour, chiedete alla guida di indicarvi alcune possibili avventure.  Desiderosi di trovare una gemma nascosta del passato? La Magazine Street, lunga sei miglia e fiancheggiata da negozi di antiquariato, inizia nel Quartiere Francese. Volete vedere la maschera mortuaria di Napoleone Bonaparte? Il Cabildo, un'antica sede del governo spagnolo, vicino a Jackson Square offre questa e altre sorprese.