Street Art Tour: a Walk through The Mission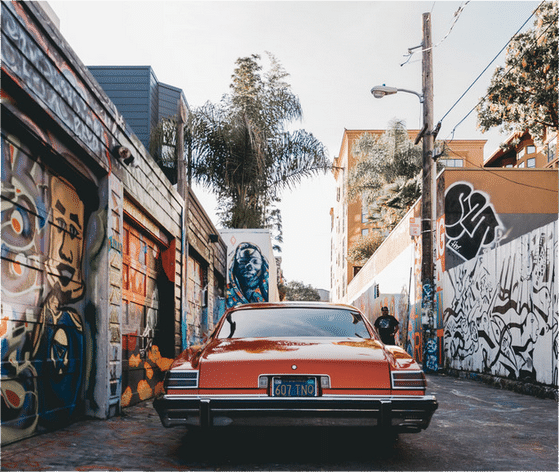 Street Art Tour: a Walk through The Mission
Feeling spontaneous? You never know what fun surprises are in store as you walk through San Francisco's least visited and most spirited neighborhood: The Mission. Founded in 1776, this vibrant artistic neighborhood blends Latino culture and food with hip new restaurants, shops and galleries.  See its namesake "Mission Dolores", the oldest intact building in San Francisco, where you can visit a rose garden and find the resting spots for famous city leaders. The mission anchors famous Dolores Park. The park has panoramic City skyline views, and wide green lawns.  Browse the Missions' ever-changing street art, pop into galleries and take more photographs in front of famous Murals. A don't miss: The Woman's Mural in Balmy Alley.  Your tour guide will tell you about the history of the neighborhood, how murals are assigned a spot, and about the current effort to keep this authentic neighborhood alive.  After all this action, you will surely be famished. Experience the taste of an authentic taco or famous Mission-style burrito–that is if you can choose one of the three varieties. If it's open, visit Precita Eyes, the Mural Arts and Visitor Center. Craving a sweet treat? Learn how the neighborhood's famous donuts are created and taste some of the world's most unique flavored donuts—Maple Glazed Apple Bacon?  Zucchini Oat?  Blueberry dipped? (Flavors vary depending on the shop.) Tour ends in the Valencia St. neighborhood at Dandelion Chocolate, a small "bean to bar" chocolate factory.
Visite urbaine : une promenade à travers The Mission
Vous vous sentez spontané ? Vous ne savez jamais quelles surprises amusantes vous attendent en vous promenant dans le quartier le moins visité et le plus animé de San Francisco : The Mission. Fondé en 1776, ce quartier artistique dynamique mélange la culture et la nourriture latino avec de nouveaux restaurants, boutiques et galeries branchés.  Découvrez son homonyme "Mission Dolores", le plus ancien bâtiment intact de San Francisco, où vous pourrez visiter un jardin de roses et trouver les lieux de repos de célèbres dirigeants de la ville. La mission est le point d'ancrage du célèbre Dolores Park. Le parc offre des vues panoramiques sur l'horizon de la ville et de larges pelouses vertes.  Parcourez l'art de rue en constante évolution des missions, entrez dans les galeries et prenez d'autres photos devant les célèbres peintures murales.
À ne pas manquer : La peinture murale de la femme dans Balmy Alley.  Votre guide vous parlera de l'histoire du quartier, de la façon dont les peintures murales se voient attribuer un emplacement, et des efforts actuels pour garder ce quartier authentique en vie.  Après toute cette action, vous serez sûrement affamé. Goûtez le goût d'un authentique taco ou du célèbre burrito de style Mission, si vous pouvez choisir l'une des trois variétés. S'il est ouvert, visitez Precita Eyes, le centre des arts muraux et des visiteurs. Vous avez envie d'une sucrerie ? Apprenez comment sont créés les célèbres beignets du quartier et goûtez à certains des beignets aux saveurs les plus originales du monde : pommes glacées à l'érable et bacon ?  Zucchini Oat ?  Trempé aux myrtilles ? (Les saveurs varient selon les magasins.) L'excursion se termine dans le quartier de Valencia St. à Dandelion Chocolate, une petite chocolaterie "bean to bar".
Recorrido de arte callejero: un paseo por The Mission
¿Se siente espontáneo? Nunca se sabe qué divertidas sorpresas le esperan mientras pasea por el barrio menos visitado y más animado de San Francisco: La Misión. Fundado en 1776, este vibrante barrio artístico combina la cultura y la comida latina con nuevos restaurantes, tiendas y galerías de moda.  Vea su homónimo "Mission Dolores", el edificio intacto más antiguo de San Francisco, donde podrá visitar un jardín de rosas y encontrar los lugares de descanso de famosos líderes de la ciudad. La misión es la base del famoso Parque Dolores. El parque tiene vistas panorámicas del horizonte de la ciudad y amplios céspedes verdes.  Recorra el siempre cambiante arte callejero de las Misiones, entre en las galerías y tome más fotografías frente a los famosos murales. No se lo pierda: El Mural de la Mujer en el callejón Balmy.  Su guía turístico le hablará de la historia del barrio, de cómo se asigna un lugar a los murales y del esfuerzo actual por mantener vivo este auténtico barrio.  Después de toda esta acción, seguro que estará hambriento. Experimente el sabor de un auténtico taco o un famoso burrito al estilo de la Misión, eso sí puede elegir una de las tres variedades. Si está abierto, visita Precita Eyes, el Centro de Artes Murales y Visitantes. ¿Te apetece un dulce? Aprenda cómo se crean los famosos donuts del barrio y pruebe algunos de los más singulares del mundo: ¿manzana con glaseado de arce y bacon?  ¿Avena con calabacín?  (Los sabores varían dependiendo de la tienda). El recorrido termina en el barrio de la calle Valencia en Dandelion Chocolate, una pequeña fábrica de chocolate "bean to bar".
Tour dell'arte di strada: una passeggiata attraverso la Missione
Vi sentite spontanei? Non si sa mai quali sorprese divertenti sono in serbo mentre si cammina nel quartiere meno visitato e più vivace di San Francisco: The Mission. Fondato nel 1776, questo vivace quartiere artistico fonde la cultura e il cibo latino con nuovi ristoranti, negozi e gallerie alla moda.  Visitate la sua omonima "Mission Dolores", il più antico edificio intatto di San Francisco, dove potrete visitare un giardino di rose e trovare i luoghi di riposo di famosi leader della città. La missione è il fulcro del famoso Dolores Park. Il parco offre una vista panoramica sullo skyline della città e ampi prati verdi.  Visitate l'arte di strada in continua evoluzione delle Missioni, fate un salto nelle gallerie e scattate altre fotografie davanti ai famosi murales. Da non perdere: Il Murale della Donna in Balmy Alley.  La vostra guida vi racconterà la storia del quartiere, il modo in cui ai murales viene assegnato un posto e l'attuale sforzo per mantenere vivo questo quartiere autentico.  Dopo tutto questo movimento, sarete sicuramente affamati. Provate il gusto di un autentico taco o di un famoso burrito in stile Mission, sempre che riusciate a scegliere una delle tre varietà. Se è aperto, visitate Precita Eyes, il Mural Arts and Visitor Center. Avete voglia di un dolce? Scoprite come vengono create le famose ciambelle del quartiere e assaggiate alcune delle ciambelle dal sapore più unico al mondo: pancetta di mela glassata all'acero?  Zucchine all'avena?  (I gusti variano a seconda del negozio) Il tour si conclude nel quartiere di Valencia St. presso Dandelion Chocolate, una piccola fabbrica di cioccolato "bean to bar".