HOLIDAYS SPARKLING MEMORIES: A MAGICAL WALK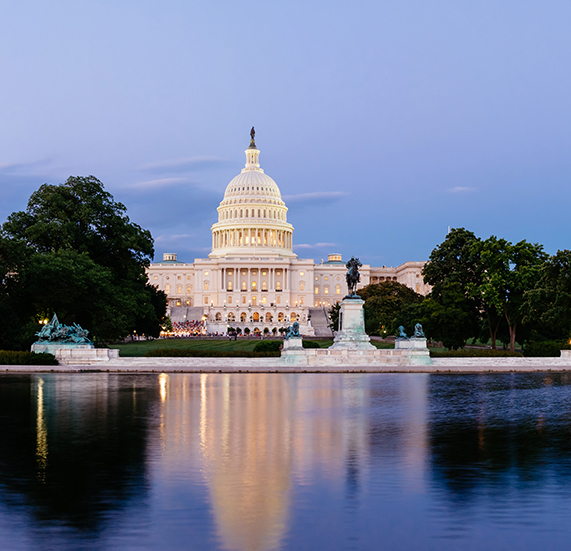 Sparkling Memories: A Magical Walk by D.C.'s Holiday Lights and Landmarks 
Are you lucky enough to be in the District of Columbia during the holiday season? Then get in the spirit of the season with a guided walking tour that sparkles. Your trained guide will bring you past the most dazzling Christmas trees, the world's largest Menorah, illuminated landmarks, and festive street decorations—ending with a visit to the world-renowned GLOW Light Art Exhibition in quaint Georgetown. Our first sight is the Capitol Tree, or "People's Tree" on the West Lawn of the Capitol Building. This enormous tree, typically up to seventy-five feet tall, is against the striking backdrop of the illuminated U.S. Capitol building. Citizens often refer to this as the "People's Tree" because citizens across the nation play a key role in making this Christmas tree possible by raising funds and helping to decorate it. The U.S. Forest service selects the tree from one of the country's national forests, transported across the country, and decorated with ornaments made by children selected from a particular state each year. Each year since 1964, the lighting of this tree has marked the start of the holiday season. Our next twinkling tree—the National Christmas Tree—is inside the White House Ellipse, in front of the White House. The tradition of lighting the National Tree began in 1923 with President Calvin Coolidge. The Pathway of Peace, built in 1954, features fifty-six smaller trees radiating from the National Tree. Each state, territory, and the District of Columbia makes handmade ornaments to decorate their own tree. The Ellipse also has a 20-foot Menorah and life-size Nativity. Next, as we travel to Georgetown, you have an opportunity to get great shots of the National Mall, Washington Monument, and U.S. Capitol building as well as a peek at Georgetown's holiday decor. We will end our trip at Georgetown's world-renowned GLOW Light Art Exhibition. See how the featured national and international outdoor exhibitions use light in daring new ways. You will surely end the night with a bright impression of D.C.'s holiday spirit! 
Experience the best of DC during the holidays with a live tour guide

Wonder at the 65 foot tall People's tree outside the Capitol Building

Walk around the National Christmas tree and Pageant of Peace outside the White House

See breathtaking illuminated views of the National Mall
Souvenirs étincelants : Une promenade magique à travers les lumières et les monuments de Noël de D.C. 
Vous avez la chance de vous trouver dans le district de Columbia pendant la période des fêtes ? Alors plongez dans l'esprit de la saison avec une visite guidée à pied qui pétille. Votre guide expérimenté vous fera passer devant les arbres de Noël les plus éblouissants, la plus grande Menorah du monde, des monuments illuminés et des décorations de rue festives, pour finir par une visite de la célèbre exposition d'art lumineux GLOW dans le quartier pittoresque de Georgetown. Notre première vision est l'arbre du Capitole, ou "arbre du peuple", sur la pelouse ouest du Capitole. Cet énorme arbre, qui peut atteindre jusqu'à 7,5 mètres de haut, a pour toile de fond le bâtiment illuminé du Capitole des États-Unis. Les citoyens l'appellent souvent "l'arbre du peuple" car les citoyens de toute la nation jouent un rôle clé dans la réalisation de cet arbre de Noël en collectant des fonds et en aidant à le décorer. Le service forestier américain sélectionne l'arbre dans l'une des forêts nationales du pays, le transporte à travers le pays et le décore avec des ornements fabriqués par des enfants sélectionnés dans un État particulier chaque année. Chaque année depuis 1964, l'illumination de cet arbre marque le début de la saison des fêtes. Notre prochain arbre scintillant – l'arbre de Noël national – se trouve dans l'ellipse de la Maison Blanche, devant la Maison Blanche. La tradition d'illuminer l'arbre national a commencé en 1923 avec le président Calvin Coolidge. Le sentier de la paix, construit en 1954, comprend cinquante-six arbres plus petits qui rayonnent à partir de l'arbre national. Chaque État, territoire et district de Columbia fabrique des ornements à la main pour décorer son propre arbre. L'Ellipse abrite également une Menorah de 20 pieds et une Nativité grandeur nature. Ensuite, lorsque nous nous rendrons à Georgetown, vous aurez l'occasion de prendre de superbes photos du National Mall, du Washington Monument et du Capitole des États-Unis, ainsi que de jeter un coup d'œil à la décoration de Noël de Georgetown. Nous terminerons notre voyage à l'exposition d'art lumineux GLOW de Georgetown, de renommée mondiale. Découvrez comment les expositions nationales et internationales en plein air utilisent la lumière de manière audacieuse. Vous terminerez certainement la nuit avec une impression lumineuse de l'esprit de vacances de D.C. ! 
Découvrez le meilleur de DC pendant les vacances avec un guide touristique 

Admirez l'arbre du peuple de 65 pieds de haut à l'extérieur du Capitole.

Promenez-vous autour de l'arbre de Noël national et du spectacle de la paix devant la Maison Blanche.

Découvrez des vues illuminées à couper le souffle du National Mall.
Recuerdos brillantes: Un paseo mágico por las luces navideñas y los monumentos de D.C. 
¿Tiene la suerte de estar en el Distrito de Columbia durante las fiestas? Entonces sumérjase en el espíritu de la temporada con una visita guiada a pie que brilla. Su guía especializado le llevará a ver los árboles de Navidad más deslumbrantes, la Menorah más grande del mundo, los monumentos iluminados y las decoraciones festivas de las calles, y terminará con una visita a la mundialmente conocida exposición de arte lumínico GLOW en la pintoresca Georgetown. Nuestra primera visión es el Árbol del Capitolio, o "Árbol del Pueblo", en el jardín oeste del edificio del Capitolio. Este enorme árbol, que suele alcanzar los 18 metros de altura, tiene como llamativo telón de fondo el edificio del Capitolio de Estados Unidos iluminado. Los ciudadanos se refieren a menudo a él como el "Árbol del Pueblo" porque los ciudadanos de todo el país desempeñan un papel fundamental para hacer posible este árbol de Navidad, recaudando fondos y ayudando a decorarlo. El Servicio Forestal de EE.UU. selecciona el árbol de uno de los bosques nacionales del país, lo transporta por todo el país y lo decora con adornos hechos por niños seleccionados de un estado concreto cada año. Cada año, desde 1964, el encendido de este árbol marca el inicio de la temporada navideña. Nuestro siguiente árbol parpadeante -el Árbol Nacional de Navidad- se encuentra en la Elipse de la Casa Blanca, frente a la misma. La tradición de encender el Árbol Nacional comenzó en 1923 con el presidente Calvin Coolidge. El Sendero de la Paz, construido en 1954, cuenta con cincuenta y seis árboles más pequeños que parten del Árbol Nacional. Cada estado, territorio y el Distrito de Columbia fabrican adornos hechos a mano para decorar su propio árbol. La Elipse también cuenta con una Menorah de seis metros y un Nacimiento de tamaño natural. A continuación, mientras viajamos a Georgetown, tendrá la oportunidad de obtener magníficas fotografías del National Mall, el Monumento a Washington y el edificio del Capitolio de Estados Unidos, así como de echar un vistazo a la decoración navideña de Georgetown. Terminaremos nuestro viaje en la mundialmente conocida exposición de arte GLOW Light de Georgetown. Vea cómo las exposiciones nacionales e internacionales al aire libre utilizan la luz de formas nuevas y atrevidas. Seguro que terminará la noche con una brillante impresión del espíritu navideño de D.C. 
Experimente lo mejor de DC durante las fiestas con un guía turístico en vivo

Maravíllese con el árbol del pueblo de 65 pies de altura en el exterior del edificio del Capitolio

Camine alrededor del árbol de Navidad nacional y del "Pageant of Peace" (desfile de la paz) en el exterior de la Casa Blanca

Vea las impresionantes vistas iluminadas del National Mall
Ricordi scintillanti: Una passeggiata magica tra le luci e i monumenti festivi di D.C. 
Avete la fortuna di trovarvi nel Distretto di Columbia durante le festività natalizie? Allora entrate nello spirito della stagione con una visita guidata a piedi che brilla. La vostra guida esperta vi condurrà davanti agli alberi di Natale più splendenti, alla Menorah più grande del mondo, ai monumenti illuminati e alle festose decorazioni stradali, per finire con una visita alla GLOW Light Art Exhibition, famosa in tutto il mondo, nel caratteristico quartiere di Georgetown. Il nostro primo spettacolo è il Capitol Tree, o "Albero del Popolo", sul prato ovest del Campidoglio. Questo enorme albero, alto in genere fino a 15 metri, si trova sullo sfondo dell'edificio illuminato del Campidoglio degli Stati Uniti. I cittadini si riferiscono spesso a questo albero come all'"albero del popolo", perché i cittadini di tutta la nazione svolgono un ruolo fondamentale nel rendere possibile questo albero di Natale, raccogliendo fondi e aiutando a decorarlo. Il servizio forestale degli Stati Uniti seleziona l'albero da una delle foreste nazionali del Paese, lo trasporta attraverso il Paese e lo decora ogni anno con ornamenti realizzati da bambini selezionati in un determinato Stato. Ogni anno, dal 1964, l'accensione di questo albero segna l'inizio della stagione delle feste. Il prossimo albero scintillante, l'Albero di Natale Nazionale, si trova all'interno dell'Ellisse della Casa Bianca, di fronte alla Casa Bianca. La tradizione di accendere l'albero nazionale è iniziata nel 1923 con il presidente Calvin Coolidge. Il Sentiero della Pace, costruito nel 1954, è composto da cinquantasei alberi più piccoli che si irradiano dall'Albero Nazionale. Ogni Stato, territorio e Distretto di Columbia realizza ornamenti fatti a mano per decorare il proprio albero. L'Ellipse ospita anche una Menorah di 20 piedi e una Natività a grandezza naturale. Poi, andando a Georgetown, avrete l'opportunità di fare splendide foto del National Mall, del Washington Monument e dell'edificio del Campidoglio degli Stati Uniti, oltre a dare un'occhiata alle decorazioni natalizie di Georgetown. Concluderemo il nostro viaggio alla GLOW Light Art Exhibition di Georgetown, famosa in tutto il mondo. Scoprite come le mostre all'aperto, nazionali e internazionali, utilizzano la luce in modi nuovi e audaci. Sicuramente concluderete la serata con un'impressione luminosa dello spirito natalizio di Washington! 
Scoprite il meglio di Washington durante le festività con una guida turistica dal vivo

Ammirate l'albero del popolo di 65 piedi di altezza all'esterno del Campidoglio

Passeggiate intorno all'albero di Natale nazionale e alla Pagina della Pace all'esterno della Casa Bianca

Vedere le viste mozzafiato illuminate del National Mall