SEE THE DISTRICT LIGHT UP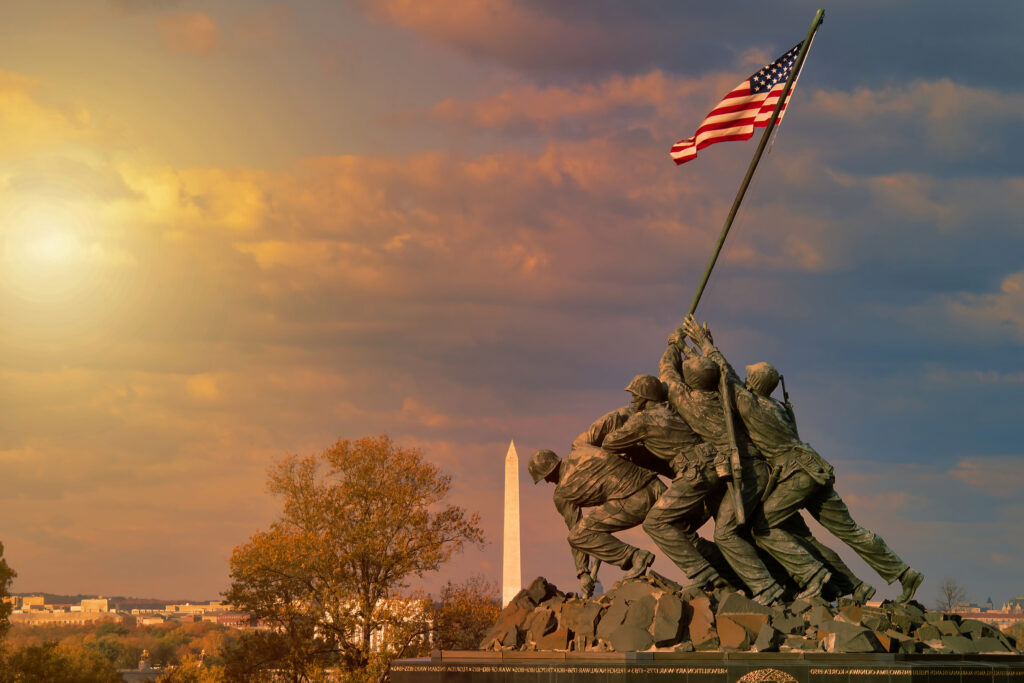 See the District Light Up: Night Tour of Washington, D.C. Monuments (with transportation)
Let Washington, D.C. enchant you at night! After dusk, it turns into a City of Light step aside, Paris right before your eyes. On this guided night-time tour, see more than 100 of D.C.'s illuminated monuments and landmarks. Impressive by day, these sights are almost magical at night, including: the world-recognized U.S. Capitol Building, the iconic White House, the Jefferson Memorial, and the Washington Monument, designed to commemorate the beloved "Father of our Nation" and first U.S. President. This towering obelisk, made of marble, granite, and bluestone, stands 555 feet tall! It is truly mesmerizing to see it lit up at night. Streetcar stops also include the FDR Memorial, Vietnam Veterans Memorial, Korean War Veterans Memorial, Iwo Jima Memorial, and Lincoln Memorial. Here, the colossal statue of Lincoln, the 16th U.S. President, will captive you. Through the awe-inspiring statue, featured against a building inspired by the Greek Parthenon, Lincoln still commands respect! Throughout the tour, your guide will share facts about Washington DC's leading role in history, behind-the-scenes stories of the city's powerful residents, and, on a lighter note, will even let you in on the city's alleged hauntings!
Voir le district s'illuminer : Visite nocturne des monuments de Washington, D.C. (avec transport)
Laissez Washington, D.C. vous enchanter la nuit ! À la tombée de la nuit, elle se transforme en une Ville Lumière ; passez à côté de Paris sous vos yeux. Au cours de cette visite guidée nocturne, découvrez plus de 100 monuments et points de repère illuminés de Washington. Impressionnants de jour, ces sites sont presque magiques de nuit, notamment le Capitole, mondialement reconnu, l'emblématique Maison Blanche, le Jefferson Memorial et le Washington Monument, conçu pour commémorer le "père de notre nation" bien-aimé et premier président des États-Unis. Cet obélisque imposant, fait de marbre, de granit et de pierre bleue, mesure 555 pieds de haut ! Il est vraiment fascinant de le voir illuminé la nuit. Les arrêts de tramway comprennent également le FDR Memorial, le Vietnam Veterans Memorial, le Korean War Veterans Memorial, le Iwo Jima Memorial et le Lincoln Memorial. Ici, la statue colossale de Lincoln, le 16e président des États-Unis, vous captivera. Grâce à cette statue impressionnante, adossée à un bâtiment inspiré du Parthénon grec, Lincoln impose toujours le respect ! Tout au long de la visite, votre guide partagera avec vous des faits sur le rôle majeur de Washington DC dans l'histoire, des anecdotes sur les coulisses des puissants résidents de la ville et, sur une note plus légère, il vous parlera même des hantises présumées de la ville !
Vea el Distrito iluminado: Visita nocturna a los monumentos de Washington, D.C. (con transporte)
Deje que Washington D.C. le encante por la noche. Al anochecer, se convierte en una Ciudad de la Luz que se aparta, París ante sus ojos. En esta visita nocturna guiada, contemple más de 100 monumentos y lugares emblemáticos de D.C. iluminados. Impresionantes de día, estas vistas son casi mágicas de noche, entre ellas: el mundialmente reconocido edificio del Capitolio de Estados Unidos, la emblemática Casa Blanca, el monumento a Jefferson y el Monumento a Washington, diseñado para conmemorar al querido "Padre de nuestra Nación" y primer presidente de Estados Unidos. Este imponente obelisco, hecho de mármol, granito y piedra azul, tiene 555 pies de altura. Es realmente fascinante verlo iluminado por la noche. Las paradas del tranvía incluyen también el FDR Memorial, el Vietnam Veterans Memorial, el Korean War Veterans Memorial, el Iwo Jima Memorial y el Lincoln Memorial. Aquí, la colosal estatua de Lincoln, el decimosexto presidente de Estados Unidos, le cautivará. A través de la imponente estatua, que aparece frente a un edificio inspirado en el Partenón griego, Lincoln sigue imponiendo respeto. A lo largo de la visita, su guía compartirá con usted datos sobre el papel protagonista de Washington DC en la historia, historias entre bastidores de los poderosos residentes de la ciudad y, en un tono más ligero, incluso le informará de los supuestos embrujos de la ciudad.
Vedere il distretto illuminato: Tour notturno dei monumenti di Washington D.C. (con trasporto)
Lasciatevi incantare da Washington D.C. di notte! Dopo il crepuscolo, si trasforma in una Città delle Luci, Parigi, proprio davanti ai vostri occhi. Durante questo tour notturno guidato, potrete ammirare più di 100 monumenti e punti di riferimento illuminati di Washington. Impressionanti di giorno, questi luoghi sono quasi magici di notte, tra cui: il Campidoglio, riconosciuto a livello mondiale, l'iconica Casa Bianca, il Jefferson Memorial e il Washington Monument, progettato per commemorare l'amato "Padre della nostra Nazione" e primo Presidente degli Stati Uniti. Questo imponente obelisco, realizzato in marmo, granito e pietra blu, è alto 555 piedi! È davvero affascinante vederlo illuminato di notte. Le fermate del tram includono anche il FDR Memorial, il Vietnam Veterans Memorial, il Korean War Veterans Memorial, l'Iwo Jima Memorial e il Lincoln Memorial. Qui, la colossale statua di Lincoln, il 16° presidente degli Stati Uniti, vi catturerà. Grazie a questa imponente statua, che si staglia su un edificio ispirato al Partenone greco, Lincoln è ancora oggi oggetto di rispetto! Durante il tour, la guida vi racconterà i fatti sul ruolo di primo piano di Washington DC nella storia, i retroscena dei potenti abitanti della città e, con una nota più leggera, vi svelerà anche i presunti fantasmi della città!