OAK PARK & FRANK LLOYD WRIGHT ARCHITECTURAL TOUR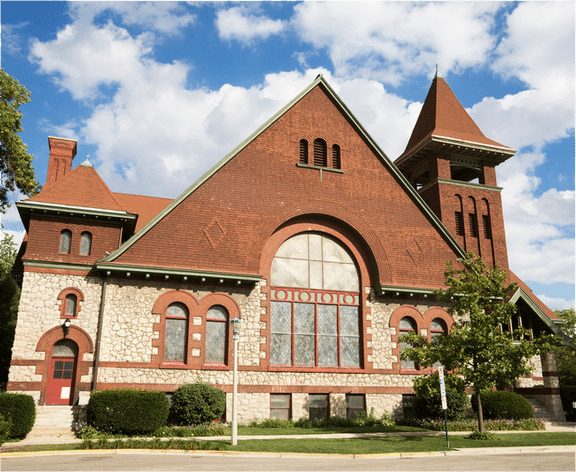 "Greatest American Architect": In the Footsteps of Frank Lloyd Wright in Oak Park (4 hours)
Let our tour guide and architect lead you beyond Chicago's great glass and steel skyscrapers, through the hidden gem of suburban Oak Park, Illinois. Frank Lloyd Wright, named the "Greatest American Architect" by The American Institute of Architecture in 1991, built his famous "Prairie Houses" here —not to mention his own home. Wright moved to Oak Park in 1881 and resided here for the first 20 years of his career—as a result many of Wright's works are concentrated in this area. We will begin our tour with a guided visit to the Interior Home and Studio of Frank Lloyd Wright, today a museum. Find out the key elements of Wright's designs, including creating buildings that harmonize with the natural environment. Did you know that a childhood set of building blocks inspired the expert architect? Find out how. We will also get a close-up view of the private house of Arthur Heurtley, one of Wright's first Prairie-style homes. Complete our walk-through Oak Park with a guided tour to Wright's Unity Temple, one of the favorite works of the architect. Wright put his heart and soul into the design of his home Unitarian church, calling it one of his most important designs and a "completely new architecture."
"Le plus grand architecte américain" : Sur les traces de Frank Lloyd Wright à Oak Park (4 heures)
Laissez notre guide touristique et architecte vous guider au-delà des grands gratte-ciel de verre et d'acier de Chicago, à travers le joyau caché de la banlieue d'Oak Park, dans l'Illinois. Frank Lloyd Wright, désigné comme le "plus grand architecte américain" par l'American Institute of Architecture en 1991, a construit ici ses célèbres "Prairie Houses", sans parler de sa propre maison. Wright s'est installé à Oak Park en 1881 et y a résidé pendant les 20 premières années de sa carrière – c'est pourquoi de nombreuses œuvres de Wright sont concentrées dans cette zone. Nous commencerons notre excursion par une visite guidée de l'Interior Home and Studio of Frank Lloyd Wright, aujourd'hui un musée. Découvrez les éléments clés des conceptions de Wright, notamment la création de bâtiments qui s'harmonisent avec l'environnement naturel. Saviez-vous qu'un jeu de cubes d'enfance a inspiré l'architecte expert ? Découvrez comment. Nous verrons également de près la maison privée d'Arthur Heurtley, l'une des premières maisons de style prairie de Wright. Complétez notre promenade dans Oak Park par une visite guidée du Temple de l'Unité de Wright, l'une des œuvres préférées de l'architecte. Wright s'est investi corps et âme dans la conception de l'église unitarienne de sa maison, la qualifiant de l'une de ses conceptions les plus importantes et d'une "architecture complètement nouvelle".
"El mejor arquitecto americano: Tras las huellas de Frank Lloyd Wright en Oak Park (4 horas)
Deje que nuestro guía y arquitecto le lleve más allá de los grandes rascacielos de cristal y acero de Chicago, a través de la joya oculta de los suburbios de Oak Park, Illinois. Frank Lloyd Wright, nombrado el "Mejor Arquitecto Americano" por el Instituto Americano de Arquitectura en 1991, construyó aquí sus famosas "Casas de la Pradera", por no hablar de su propia casa. Wright se trasladó a Oak Park en 1881 y residió aquí durante los primeros 20 años de su carrera, por lo que muchas de las obras de Wright se concentran en esta zona. Comenzaremos nuestro recorrido con una visita guiada a la Casa Interior y Estudio de Frank Lloyd Wright, hoy convertida en museo. Descubra los elementos clave de los diseños de Wright, como la creación de edificios que armonizan con el entorno natural. ¿Sabía que un juego de bloques de construcción de su infancia inspiró al experto arquitecto? Descubra cómo. También veremos de cerca la casa privada de Arthur Heurtley, una de las primeras casas de estilo pradera de Wright. Completaremos nuestro paseo por Oak Park con una visita guiada al Templo de la Unidad de Wright, una de las obras favoritas del arquitecto. Wright puso su corazón y su alma en el diseño de su templo unitario, calificándolo como uno de sus diseños más importantes y una "arquitectura completamente nueva".
"Il più grande architetto americano: Sulle tracce di Frank Lloyd Wright a Oak Park (4 ore)
Lasciate che la nostra guida turistica e architetto vi conduca oltre i grandi grattacieli di vetro e acciaio di Chicago, attraverso la gemma nascosta della periferia di Oak Park, Illinois. Frank Lloyd Wright, nominato "il più grande architetto americano" dall'American Institute of Architecture nel 1991, ha costruito qui le sue famose "Prairie Houses" (case nella prateria), per non parlare della sua casa. Wright si trasferì a Oak Park nel 1881 e qui risiedette per i primi 20 anni della sua carriera: di conseguenza, molte delle opere di Wright sono concentrate in questa zona. Inizieremo il nostro tour con una visita guidata alla Interior Home and Studio of Frank Lloyd Wright, oggi museo. Scopriremo gli elementi chiave dei progetti di Wright, tra cui la creazione di edifici che si armonizzano con l'ambiente naturale. Sapevate che un set di mattoncini per bambini ha ispirato l'esperto architetto? Scoprite come. Inoltre, vedremo da vicino la casa privata di Arthur Heurtley, una delle prime case in stile Prairie di Wright. Completiamo la nostra visita a Oak Park con una visita guidata al Tempio dell'Unità di Wright, una delle opere preferite dell'architetto. Wright ha messo il cuore e l'anima nella progettazione della sua chiesa unitariana, definendola uno dei suoi progetti più importanti e una "architettura completamente nuova".