Muir Wood and Sausalito Visit by Minivan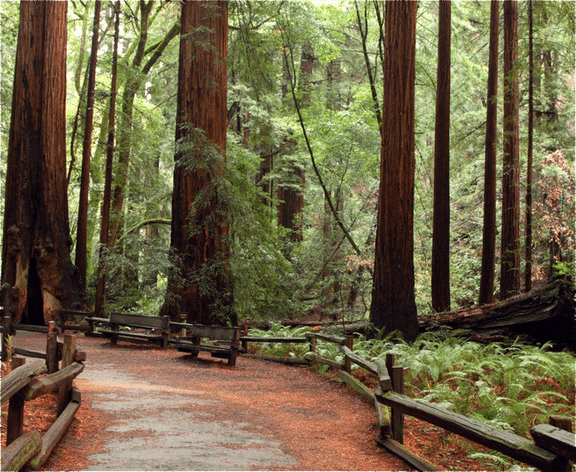 We start with a drive down the Embarcadero to see and learn the history of its many old piers. Then we drive past Alcatraz Landing and along Fisherman's Wharf. We will stop at The Palace of Fine Arts, the last remaining building from the 1915 World's Fair, where the typewriter was introduced to the public for the first time. Next, we enjoy a breathtaking (unless the fog prevails!) drive over The Golden Gate Bridge and make a scenic stop along the bridge to admire its beauty up close.  We continue on our way to Muir Woods National Monument, the tallest old-growth redwood tree forest in the world. Find out how these redwoods have survived for so long. Enjoy walking along a winding trail among these ancient trees and climb a hillside to view treetops, the sparkling  Pacific Ocean, and nearby Mount Tamalpais. Learn all about John Muir, a Scottish-American naturalist after whom these woods are named. Hear Muir's truly fascinating biography and how the United States' National Parks Service is forever indebted to him. On the way back from the redwoods, visit Sausalito, a charming little town you may just fall in love with. Once a coastal fishing village, then a key maker of World War II boats, Sausalito first became truly famous in the1960s when artists and hippies squatted along the water's numerous houseboats. Today, you can see these picturesque (renovated) boats, along with a beautiful view of San Francisco and the Golden Gate Bridge. Guests will have a chance to eat, taste wine or go shopping in the town's trendy venues on their own before we head back to San Francisco.
Nous commençons par une promenade le long de l'Embarcadero pour voir et apprendre l'histoire de ses nombreuses vieilles jetées. Nous passerons ensuite devant Alcatraz Landing et longerons Fisherman's Wharf. Nous nous arrêterons au Palais des Beaux-Arts, le dernier bâtiment restant de l'Exposition universelle de 1915, où la machine à écrire a été présentée au public pour la première fois. Ensuite, nous profiterons d'un trajet à couper le souffle (sauf en cas de brouillard !) pour traverser le Golden Gate Bridge et nous ferons un arrêt panoramique le long du pont pour admirer sa beauté de près.  Nous poursuivons notre route vers le Muir Woods National Monument, la plus grande forêt de séquoias anciens au monde. Découvrez comment ces séquoias ont survécu si longtemps. Profitez d'une promenade le long d'un sentier sinueux parmi ces arbres anciens et montez sur une colline pour voir la cime des arbres, l'océan Pacifique étincelant et le mont Tamalpais tout proche. Apprenez tout sur John Muir, un naturaliste écossais-américain qui a donné son nom à ces bois. Écoutez la biographie vraiment fascinante de Muir et apprenez comment le Service des parcs nationaux des États-Unis lui est à jamais redevable. Sur le chemin du retour des séquoias, visitez Sausalito, une charmante petite ville dont vous pourriez bien tomber amoureux. Autrefois un village de pêcheurs côtiers, puis l'un des principaux fabricants de bateaux de la Seconde Guerre mondiale, Sausalito est devenu véritablement célèbre dans les années 1960, lorsque des artistes et des hippies ont squatté les nombreuses maisons flottantes le long de l'eau. Aujourd'hui, vous pouvez voir ces bateaux pittoresques (rénovés), ainsi qu'une vue magnifique sur San Francisco et le Golden Gate Bridge. Les invités auront l'occasion de manger, de déguster du vin ou de faire du shopping dans les lieux branchés de la ville par eux meme avant le retour prévu sur San Francisco.
Visita a Muirwood y Sausalito en miniván
Comenzamos con un paseo por el Embarcadero para ver y conocer la historia de sus numerosos muelles antiguos. A continuación, pasaremos por Alcatraz Landing y por Fisherman's Wharf. Nos detendremos en el Palacio de Bellas Artes, el último edificio que queda de la Feria Mundial de 1915, donde se presentó al público por primera vez la máquina de escribir. A continuación, disfrutaremos de un impresionante (¡A menos que la niebla prevalezca!) viaje por el puente Golden Gate y haremos una parada panorámica a lo largo del puente para admirar su belleza de cerca.  Continuamos nuestro camino hacia el Monumento Nacional de Muir Woods, el bosque de secuoyas más alto del mundo. Descubra cómo estas secoyas han sobrevivido durante tanto tiempo. Disfrute de un paseo por un sendero sinuoso entre estos árboles milenarios y suba a una ladera para ver las copas de los árboles, el centelleante océano Pacífico y el cercano monte Tamalpais. Aprenda todo sobre John Muir, naturalista escocés-estadounidense que da nombre a estos bosques. Escuche la fascinante biografía de Muir y cómo el Servicio de Parques Nacionales de Estados Unidos está en deuda con él. A la vuelta de las secoyas, visite Sausalito, una pequeña y encantadora ciudad de la que puede enamorarse. Sausalito, que en su día fue un pueblo costero de pescadores y luego un importante fabricante de barcos de la Segunda Guerra Mundial, se hizo realmente famoso en la década de 1960, cuando artistas y hippies se instalaron a lo largo de las numerosas casas flotantes. Hoy en día, se pueden ver estas pintorescas embarcaciones (renovadas), junto con una hermosa vista de San Francisco y el puente Golden Gate. Los huéspedes tendrán la oportunidad de comer, degustar vinos o ir de compras en los locales de moda de la ciudad por su cuenta antes de que regresemos a San Francisco.
Visita di Muirwood e Sausalito in minivan
Si inizia con un giro in auto lungo l'Embarcadero per vedere e conoscere la storia dei suoi numerosi vecchi moli. Poi passeremo davanti all'Alcatraz Landing e lungo il Fisherman's Wharf. Ci fermeremo al Palazzo delle Belle Arti, l'ultimo edificio rimasto dell'Esposizione Universale del 1915, dove la macchina da scrivere fu presentata al pubblico per la prima volta. Successivamente, ci godremo un viaggio mozzafiato (a meno che non prevalga la nebbia!) sul Golden Gate Bridge e faremo una sosta panoramica lungo il ponte per ammirarne la bellezza da vicino.  Proseguiamo verso il Muir Woods National Monument, la più alta foresta di sequoie secolari del mondo. Scoprite come queste sequoie siano sopravvissute così a lungo. Passeggiate lungo un sentiero tortuoso tra questi alberi secolari e salite su una collina per ammirare le cime degli alberi, lo scintillante Oceano Pacifico e il vicino Monte Tamalpais. Scoprite tutto su John Muir, il naturalista scozzese-americano da cui questi boschi prendono il nome. Ascoltate l'affascinante biografia di Muir e come il National Parks Service degli Stati Uniti sia per sempre in debito con lui. Sulla via del ritorno dalle sequoie, visitate Sausalito, un'affascinante cittadina di cui potreste innamorarvi. Un tempo villaggio costiero di pescatori, poi produttore chiave di imbarcazioni della Seconda Guerra Mondiale, Sausalito divenne veramente famosa negli anni Sessanta, quando artisti e hippy si stabilirono lungo le numerose case galleggianti. Oggi è possibile ammirare queste pittoresche imbarcazioni (ristrutturate), insieme a una splendida vista su San Francisco e sul Golden Gate Bridge. Gli ospiti avranno la possibilità di mangiare, degustare vino o fare shopping nei locali alla moda della città prima di tornare a San Francisco.