Los Angeles in a Convertible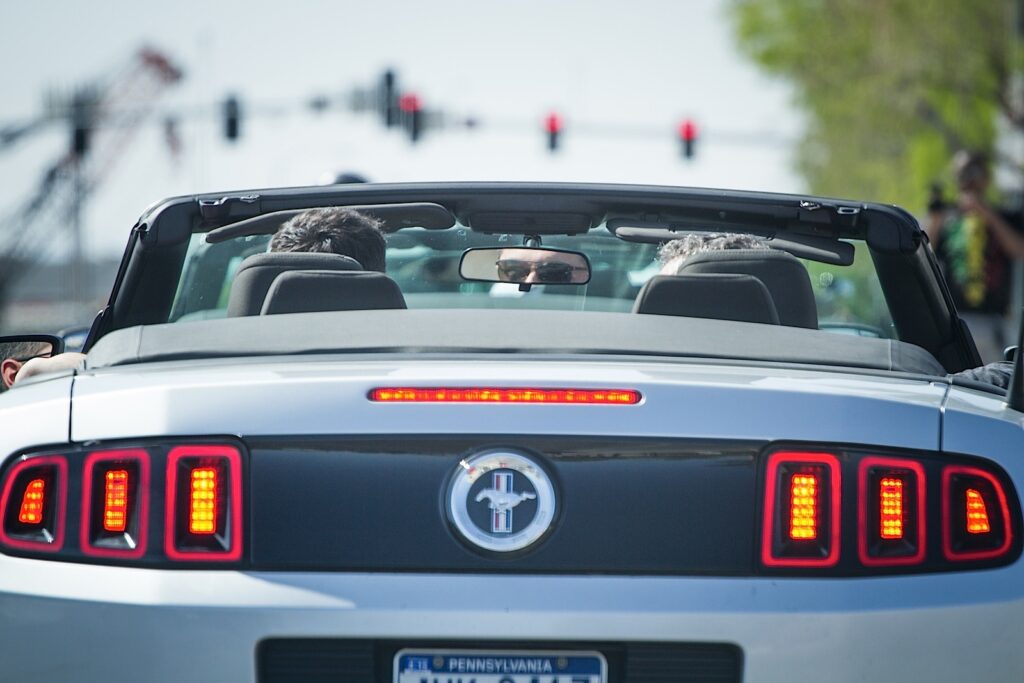 Treat yourself to a 4-hour spin around Los Angeles for 1 to 2 passengers with a private driver. It'll be a blast! Visualize cruising the highways and byways of LA in the light wind, feeling like a movie star aboard a fancy convertible. Imagine riding with the top down with your hair blowing and letting the warm Santa Monica sun caress your skin.
Come join us for this tour that will delight car lovers! You will embark with MAD Tours and Events and your driver in a convertible to enjoy the beauty of Los Angeles and Santa Monica. Your driver will pick you up at your hotel and off you go! Let yourself be driven to see the most mythical places of the city during this tour. Are you ready to live the American dream in a convertible?
What you'll see:
Hollywood—a neighborhood in central LA whose name has come to be equated with the U.S. film industry. Major studios like Columbia, Disney, Paramount, Warner Bros. and Universal were founded there. Founded in 1903, Hollywood was consolidated with the city of Los Angeles in 1910. A prominent film industry rapidly emerged, which eventually became the most recognizable in the world.
Beverly Hills—home to many Hollywood stars and upscale boutiques on Rodeo Drive, as well as Beverly Gardens Park with fountains and rose gardens, and the 1920s Greystone Mansion. Originally a Mexican lima bean farm were grown, Beverly Hills was incorporated in 1914. In January 2022, Beverly Hills became the first city in America to ban the sale of tobacco, although smoking lounges and hotels are exempt from the new law.
West Hollywood—one of the most prominent gay villages in the U.S. and home to the Sunset Strip, a famous 1.5-mile stretch of Sunset Boulevard known for its eclectic boutiques, restaurants, rock clubs, and giant colorful billboards
Santa Monica—a splendid coastal city with a laid-back beach town atmosphere, featuring Palisades Park, with views of the Pacific Ocean and a 3.5-mile stretch of coastline. Santa Monica Pier is home to the Pacific Park amusement park, historic Looff Hippodrome Carousel and Santa Monica Pier Aquarium. In the city center, Bergamot Station houses multiple art galleries. Its eight neighborhoods offer a mix of shopping, dining, entertainment and outdoor adventures.
Venice Beach—a buzzing bohemian beach town with funky shops, street performers and colorful murals. It's the roller skating capital of the world! Abbot Kinney Boulevard features foodie hot spots, stylish boutiques and coffee bars. This iconic site attracts international visitors and around 28,000 people visit the Venice Beach Boardwalk every day. The two-mile Boardwalk garners over 10 million visitors per year and is one of the region's most popular tourist attractions. Its fishing pier, world-renowned skate plaza, bike path, children's play areas and other amenities are open to the general public.
Offrez-vous un tour de Los Angeles de 4 heures pour 1 à 2 passagers avec un chauffeur privé. Vous allez vous régaler! Imaginez que vous vous promenez sur les routes et les boulevards de Los Angeles avec un vent léger et que vous vous sentez comme une star de cinéma à bord d'une décapotable de luxe. Imaginez que vous roulez avec le toit ouvert, les cheveux au vent et que vous laissez le chaud soleil de Santa Monica caresser votre peau.
Venez nous rejoindre pour cette excursion qui ravira les amateurs de voitures! Vous embarquerez avec MAD Tours and Events et votre chauffeur dans une décapotable pour profiter de la beauté de Los Angeles et de Santa Monica. Votre chauffeur viendra vous chercher à votre hôtel et c'est parti ! Laissez-vous conduire pour voir les lieux les plus mythiques de la ville lors de cette visite. Êtes-vous prêt à vivre le rêve américain dans une décapotable ?
Ce que vous verrez :
● Hollywood – un quartier du centre de Los Angeles dont le nom est désormais assimilé à l'industrie cinématographique américaine. De grands studios comme Columbia, Disney, Paramount, Warner Bros et Universal y ont été fondés. Fondée en 1903, Hollywood a été rattachée à la ville de Los Angeles en 1910. Une industrie cinématographique de premier plan a rapidement émergé, qui est finalement devenue la plus reconnaissable au monde.
● Beverly Hills-ou habitent de nombreuses stars d'Hollywood et des boutiques de luxe sur Rodeo Drive, ainsi que le parc Beverly Gardens avec ses fontaines et ses roseraies, et le manoir Greystone des années 1920. À l'origine, une ferme mexicaine où l'on cultivait des Haricots, Beverly Hills a été constituée en 1914. En janvier 2022, Beverly Hills est devenue la première ville d'Amérique à interdire la vente de tabac, bien que les salons fumeurs et les hôtels soient exemptés de cette nouvelle loi.
● West Hollywood-un des villages gays les plus en vue des États-Unis et où se trouve le Sunset Strip, une célèbre portion de 1,5 mile du Sunset Boulevard connue pour ses boutiques éclectiques, ses restaurants, ses clubs de rock et ses panneaux publicitaires géants et colorés.
● Santa Monica-une splendide ville côtière à l'atmosphère décontractée, avec notamment le Palisades Park, qui offre des vues sur l'océan Pacifique et une étendue de 3,5 miles de littoral. Le Santa Monica Pier abrite le parc d'attractions Pacific Park, le carrousel historique Looff Hippodrome et l'aquarium Santa Monica Pier. Dans le centre-ville, la station Bergamot abrite de nombreuses galeries d'art.
● Venice Beach – une ville de plage bohème bourdonnante avec des boutiques funky, des artistes de rue et des graffitis colorées. C'est la capitale mondiale du patinage à roulettes ! L'Abbot Kinney Boulevard propose des points chauds de la gastronomie, des boutiques élégantes et des bars à café. Ce site emblématique attire des visiteurs internationaux et environ 28 000 personnes se rendent chaque jour sur la promenade de Venice Beach. Cette promenade de trois kilomètres attire plus de 10 millions de visiteurs par an et constitue l'une des attractions touristiques les plus populaires de la région. Sa jetée de pêche, sa place de skate de renommée mondiale, sa piste cyclable, ses aires de jeux pour enfants et d'autres aménagements sont ouverts au grand public.
Regálese una vuelta de 4 horas por Los Ángeles para 1 o 2 pasajeros con un conductor privado. ¡Será una explosión! Visualice que recorre las autopistas y carreteras de Los Ángeles con un ligero viento, sintiéndose como una estrella de cine a bordo de un lujoso descapotable. Imagínese conduciendo con la capota bajada con el pelo al viento y dejando que el cálido sol de Santa Mónica acaricie su piel.
Acompáñenos en este recorrido que hará las delicias de los amantes de los coches. Se embarcará con MAD Recorridos and Events y su conductor en un descapotable para disfrutar de la belleza de Los Ángeles y Santa Mónica. Su conductor le recogerá en su hotel y ¡ya está en marcha! Déjese llevar para conocer los lugares más míticos de la ciudad durante este recorrido. ¿Está preparado para vivir el sueño americano en un descapotable?
Lo que verás
Hollywood, un barrio del centro de Los Ángeles cuyo nombre ha llegado a equipararse con la industria cinematográfica estadounidense. Allí se fundaron grandes estudios como Columbia, Disney, Paramount, Warner Bros. y Universal. Fundado en 1903, Hollywood se consolidó con la ciudad de Los Ángeles en 1910. Rápidamente surgió una destacada industria cinematográfica, que acabó convirtiéndose en la más reconocida del mundo.
Beverly Hills alberga a muchas estrellas de Hollywood y boutiques de lujo en Rodeo Drive, así como el parque Beverly Gardens, con fuentes y jardines de rosas, y la mansión Greystone de los años 20. Originalmente se cultivaba una granja mexicana de habas, Beverly Hills se incorporó en 1914. En enero de 2022, Beverly Hills se convirtió en la primera ciudad de América en prohibir la venta de tabaco, aunque los salones de fumadores y los hoteles están exentos de la nueva ley.
West Hollywood: uno de los pueblos gay más destacados de Estados Unidos y sede de Sunset Strip, un famoso tramo de 2,5 kilómetros de Sunset Boulevard conocido por sus eclécticas boutiques, restaurantes, clubes de rock y gigantescos carteles de colores.
Santa Mónica: una espléndida ciudad costera con un relajado ambiente de pueblo de playa, que cuenta con el parque Palisades, con vistas al océano Pacífico y un tramo de 3,5 millas de costa. El muelle de Santa Mónica alberga el parque de atracciones Pacific Park, el histórico carrusel Looff Hippodrome y el acuario Santa Monica Pier. En el centro de la ciudad, Bergamot Station alberga múltiples galerías de arte. Sus ocho barrios ofrecen una mezcla de tiendas, restaurantes, entretenimiento y aventuras al aire libre.
Venice Beach: una bulliciosa y bohemia ciudad playera con tiendas de moda, artistas callejeros y coloridos murales. Es la capital mundial del patinaje. El bulevar Abbot Kinney cuenta con lugares de interés gastronómico, elegantes boutiques y cafés. Este emblemático lugar atrae a visitantes internacionales y alrededor de 28.000 personas visitan el paseo marítimo de Venice Beach cada día. El paseo marítimo, de tres kilómetros, recibe más de 10 millones de visitantes al año y es una de las atracciones turísticas más populares de la región. Su muelle de pesca, la mundialmente conocida plaza de patinaje, el carril bici, las zonas de juego para niños y otros servicios están abiertos al público en general.
Concedetevi un giro di 4 ore a Los Angeles per 1 o 2 passeggeri con un autista privato. Sarà uno spasso! Immaginate di percorrere le autostrade e le strade secondarie di Los Angeles con un vento leggero, sentendovi come una star del cinema a bordo di un'elegante decappottabile. Immaginate di viaggiare con la capote abbassata, i capelli sciolti e il caldo sole di Santa Monica che vi accarezza la pelle.
Unitevi a noi in questo tour che farà la gioia degli amanti delle auto! Con MAD Tours and Events e il vostro autista salirete a bordo di una decappottabile per ammirare le bellezze di Los Angeles e Santa Monica. L'autista verrà a prendervi in albergo e partirete! Lasciatevi guidare per vedere i luoghi più mitici della città durante questo tour. Siete pronti a vivere il sogno americano in una decappottabile?
Cosa vedrete:
Hollywood, un quartiere del centro di Los Angeles il cui nome è stato associato all'industria cinematografica statunitense. Qui sono stati fondati importanti studi cinematografici come Columbia, Disney, Paramount, Warner Bros. e Universal. Fondata nel 1903, Hollywood fu consolidata con la città di Los Angeles nel 1910. Si sviluppò rapidamente un'industria cinematografica di primo piano, che alla fine divenne la più riconoscibile al mondo.
Beverly Hills ospita molte star di Hollywood e le boutique di lusso di Rodeo Drive, oltre al Beverly Gardens Park con fontane e giardini di rose e alla Greystone Mansion degli anni Venti. Originariamente era un'azienda agricola messicana che coltivava fagioli di Lima, Beverly Hills è stata incorporata nel 1914. Nel gennaio 2022, Beverly Hills è diventata la prima città americana a vietare la vendita di tabacco, anche se le sale fumatori e gli hotel sono esenti dalla nuova legge.
West Hollywood-uno dei villaggi gay più importanti degli Stati Uniti e sede del Sunset Strip, un famoso tratto di 1,5 miglia del Sunset Boulevard noto per le sue eclettiche boutique, i ristoranti, i rock club e i giganteschi cartelloni pubblicitari colorati.
Santa Monica: una splendida città costiera con un'atmosfera rilassata da città balneare, caratterizzata dal Palisades Park, con vista sull'Oceano Pacifico e un tratto di costa di 3,5 miglia. Il molo di Santa Monica ospita il parco divertimenti Pacific Park, lo storico carosello Looff Hippodrome e il Santa Monica Pier Aquarium. Nel centro della città, Bergamot Station ospita diverse gallerie d'arte. Gli otto quartieri della città offrono un mix di shopping, ristoranti, divertimenti e avventure all'aria aperta.
Venice Beach: un'animata città balneare bohémien con negozi alla moda, artisti di strada e murales colorati. È la capitale mondiale del pattinaggio a rotelle! Abbot Kinney Boulevard è caratterizzato da punti di ristoro, boutique alla moda e bar. Questo luogo iconico attrae visitatori internazionali e circa 28.000 persone visitano il Venice Beach Boardwalk ogni giorno. Le due miglia di Boardwalk raccolgono oltre 10 milioni di visitatori all'anno e sono una delle attrazioni turistiche più popolari della regione. Il suo molo per la pesca, la piazza per lo skate di fama mondiale, la pista ciclabile, le aree gioco per bambini e altri servizi sono aperti al pubblico.