LGBTQ Tour: A Proud Walk through the Castro Neighborhood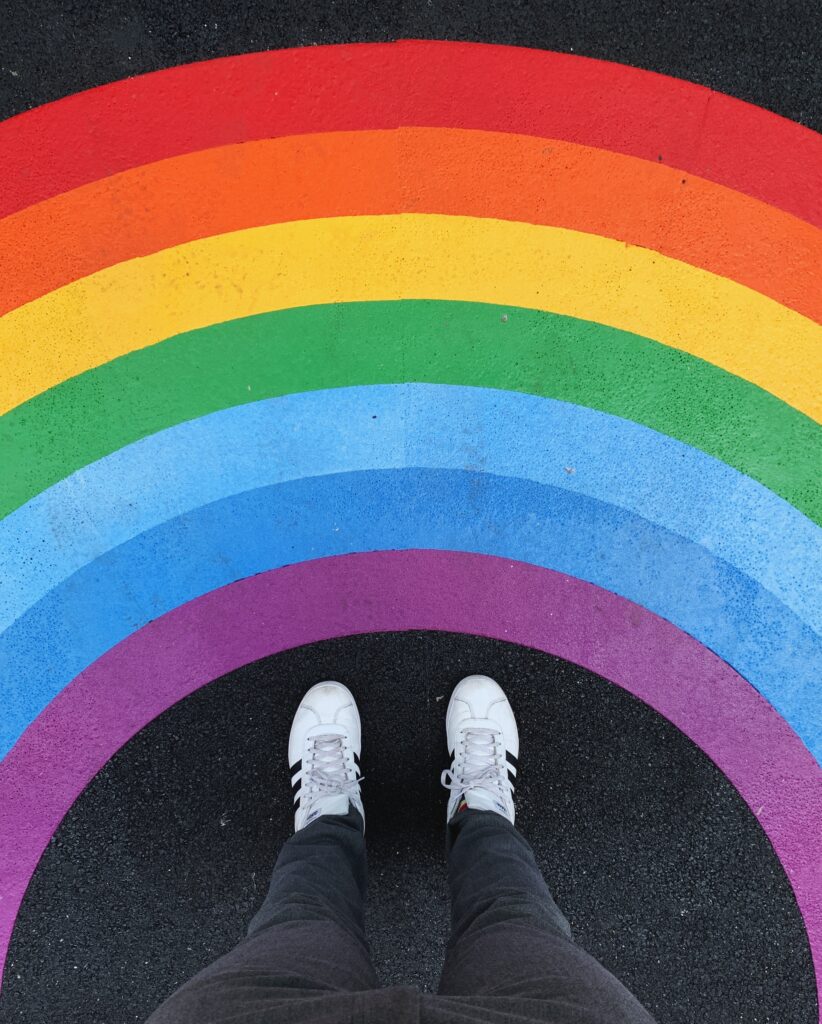 Explore the LGBTQ history of the Castro neighborhood on foot. Whatever your sexual orientation, you are sure to have fun! Your local guide will stroll with you through this fascinating neighborhood, pointing out local landmarks and historical sites. You will learn about the important role this area played as an epicenter of gay rights:  from the election of Harvey Milk to City Supervisor as the first openly gay man in the state of California to the LGBT activism that followed in the 1980s and its ongoing mission. Pass by Harvey Milk's former residence and the Harvey Milk Plaza. Take pictures at the Rainbow Honor Walk Project, which honors LGBT pioneers. Pink Triangle Memorial Park is a tribute to the LGBT people killed during Hitler's Nazi regime. You will also recall the AIDS pandemic in the 80s and learn about the first gay pride parade in 1970, which has become an institution in San Francisco. (It's a must-attend if you are in town in late June). You will gain a greater appreciation of the country's lack of civil rights protections for this diverse and widespread community. Explore the many historical events and sites that have shaped the Castro community as well as culture worldwide. Don't miss the Castro theater, with its Spanish baroque architecture. Given all this history, is it surprising that San Francisco was the first city to achieve the milestone of same-sex marriage? Leave with a deeper understanding and insight after your visit to San Francisco and the Castro neighborhood.
Explorez à pied l'histoire LGBTQ du quartier de Castro. Quelle que soit votre orientation sexuelle, vous êtes sûr de vous amuser ! Votre guide local se promènera avec vous dans ce quartier fascinant, en vous indiquant les points de repère locaux et les sites historiques. Vous découvrirez le rôle important que ce quartier a joué en tant qu'épicentre des droits des personnes gay: de l'élection de Harvey Milk au poste de superviseur de la ville, en tant que premier homme ouvertement gay de l'État de Californie, au militantisme LGBT qui a suivi dans les années 1980 et à sa mission actuelle. Passez devant l'ancienne résidence de Harvey Milk et la Harvey Milk Plaza. Prenez des photos au Rainbow Honor Walk Project, qui rend hommage aux pionniers LGBT. Le Pink Triangle Memorial Park est un hommage aux personnes LGBT tuées sous le régime nazi d'Hitler. Vous vous souviendrez également de la pandémie de sida dans les années 80 et apprendrez à connaître la première parade de la gay pride en 1970, qui est devenue une institution à San Francisco. (C'est un événement à ne pas manquer si vous êtes en ville à la fin du mois de juin). Vous comprendrez mieux le manque de protection des droits civiques de cette communauté diverse et répandue dans le pays. Explorez les nombreux événements et sites historiques qui ont façonné la communauté du Castro ainsi que la culture mondiale. Ne manquez pas le théâtre Castro, avec son architecture baroque espagnole. Compte tenu de toute cette histoire, est-il surprenant que San Francisco ait été la première ville à franchir le cap du mariage homosexuel ? Vous repartirez avec une meilleure compréhension et un meilleur aperçu après votre visite de San Francisco et du quartier du Castro.
Visite collective: De 6 à 15 personnes à pied.
6 personnes minimum
15 personnes maximum
Si ce nombre n'est pas atteint, il vous sera proposé de passer en visite privée ou alors d'annuler totalement. Si vous choisissez cette dernière option, vous serez remboursé intégralement.
Visite privative: De 1 à 10 personnes.
Durée de la visite: 2h.
Point de rendez-vous: Adresse communiquée au moment de la confirmation de la visite.
Période: Toute l'année.
Jour de la semaine: Mercredi et Jeudi de 14h à 16h.
Visite collective:
Adulte: $60 par personne.
Enfant de moins de 6 à 11 ans : $45 par enfant.
Gratuit pour les enfants de moins de 5 ans.
Visite privative: $550 par groupe.
Groupe de taille plus importante: Veuillez nous contacter.
Il est possible de prévoir cette visite a votre convenance selon votre emploi du temps donc veuillez nous contacter si vous avez des dates spécifiques afin que nous vérifiions les disponibilités.
Agences de voyages et évènementielles: Contactez-nous pour vos tarifs préférentiels.
Service inclus: 2h de visite à pied avec un guide licencié.
Service non inclus: Pourboires pour le guide licencié. Dépenses personnelles. Transfert en bus ou cable.
Accessibilité: Cette visite est possible pour les personnes handicapées en fauteuil roulant, nous contacter pour la tarification et les modalités de logistiques. Nous pouvons prévoir un traducteur pour la langue des signes. Merci de nous contacter pour tarifs et disponibilités.
Guide: Nos guides licenciés se réservent le droit d'annuler l'excursion prévue en fonction des conditions météorologiques (Pluie, tempête, neige ou autres). En cas d'annulation, nous pouvons vous proposer une date alternative ou une annulation totale et dans ce cas, nous vous rembourserons intégralement.
Conditions d'annulation Visite privative: Si vous nous communiquez une demande d'annulation à plus de 15 jours avant le jour de votre excursion, un remboursement de 50% vous sera effectué. Si vous nous communiquez une demande d'annulation à moins de 15 jours avant le jour de votre excursion, aucun remboursement ne vous sera effectué.
Conditions d'annulation Visite collective: Si vous nous communiquez une demande d'annulation à plus de 15 jours avant le jour de votre excursion, un remboursement de 50% vous sera effectué. Si vous nous communiquez une demande d'annulation à moins de 15 jours avant le jour de votre excursion, aucun remboursement ne vous sera effectué.
Vidéos et photos : Nous nous réservons le droit d'enregistrer des séquences vidéo et des photographies dans le cadre de la promotion et de la publicité futures des circuits et événements MAD sur les réseaux sociaux et notre site internet.
Objets personnels : Mad Tours and Events n'est pas responsable des objets personnels perdus, volés ou abandonnés.
Check-in- Procédure d' enregistrement: Le jour de l'excursion ou de l'activité, veuillez arriver 15 minutes à l'avance au point de départ de l'excursion à l'adresse indiquée envoyée avec votre confirmation.
Taxes et frais de réservation : Ils ne sont pas inclus dans le tarif. Ces frais seront indiqués lorsque vous commencerez le processus de réservation.
Animaux domestiques: Même si nous les aimons beaucoup, ils ne sont pas admis.
Demande de report: Toute demande de report de votre visite doit être faite par écrit et nous être envoyée par e-mail plus de 72 heures avant votre visite ou activité. Il n'y a pas d'exception. Sans un email dans les délais demandés, nous ne serons pas en mesure de reprogrammer votre visite.
No show: Veuillez noter que si vous ne vous présentez pas le jour de votre visite ou activité, votre visite est considérée perdue.
Group tour: From 6 to 15 people.
Minimum 6 guests
Maximum 15 guests
If this number is not reached, you will be offered to go on a private tour or to cancel. If you choose the latter option, you will be fully refunded.
Private tour: From 1 to 10 people.
Duration of the tour: 2h.
Meeting point: Will be emailed with your booking confirmation.
Period: All year round.
Days: Wednesday and Thursday from 2:00 pm to 4:00 pm.
Group tour:
Adult: $60 per person.
Children under 6 to 11 years old: $45.
Free for children under 5 years old.
Private tour: $550 per group.
Larger groups: Please contact us.
It is possible to schedule this tour at your convenience so please contact us if you have specific dates so we can check availability.

Travel agencies and Travel professionals: Please contact us for your preferential rate.
Services included: 2-hour walking tour with a licensed guide.
Services not included: Tips for the tour guide, personal expenses, transfer by subway, cable or bus.
Accessibility: This tour is possible for people with disabilities in wheelchairs, contact us for the rate and logistics.
This tour is available for the hearing impaired. We can provide a translator for sign language. Please contact us for rates and availability.
Guide: Our licensed guides reserve the right to cancel the scheduled tour due to weather conditions (rain, storm, snow or other). In case of cancellation, we can offer you an alternative date or a total cancellation, in which case we will give you a full refund.
Cancellation Policy Private Tour: If you cancel more than 15 days prior to your tour, a 50% refund will be given. If you cancel less than 15 days prior to your tour, no refund will be given.
Cancellation Policy Group Tour: If you cancel more than 15 days prior to your tour, a 50% refund will be given. If you cancel less than 15 days before the day of your tour, no refund will be given.
Videos and pictures: We reserve the right to record video footage and photography in connection with future promotional and publicity for MAD Tours and Events on social media and website.
Belongings: Mad Tours and Events is not responsible for any personal items which are lost, stolen or left behind.
Passenger Voucher check-in Instructions: On the day of tour or activity, please arrive 15 minutes early to the tour departure point at the indicated address sent with your confirmation.
Pet: As much as we love them, they are not allowed.
Taxes & Booking fees: They are not included in the rate. Those fees will be indicated once you start the booking reservation process.
Request to reschedule your tour: All requests to reschedule your tour must be made in writing and sent to us via email more than 72 hours prior to your tour or activity. There are no exceptions. Without an email, we will not be able to reschedule your tour.
No show: Please note that if you do not show up on the day of your tour or activity, your tour is forfeited.