HISTORIC GEORGETOWN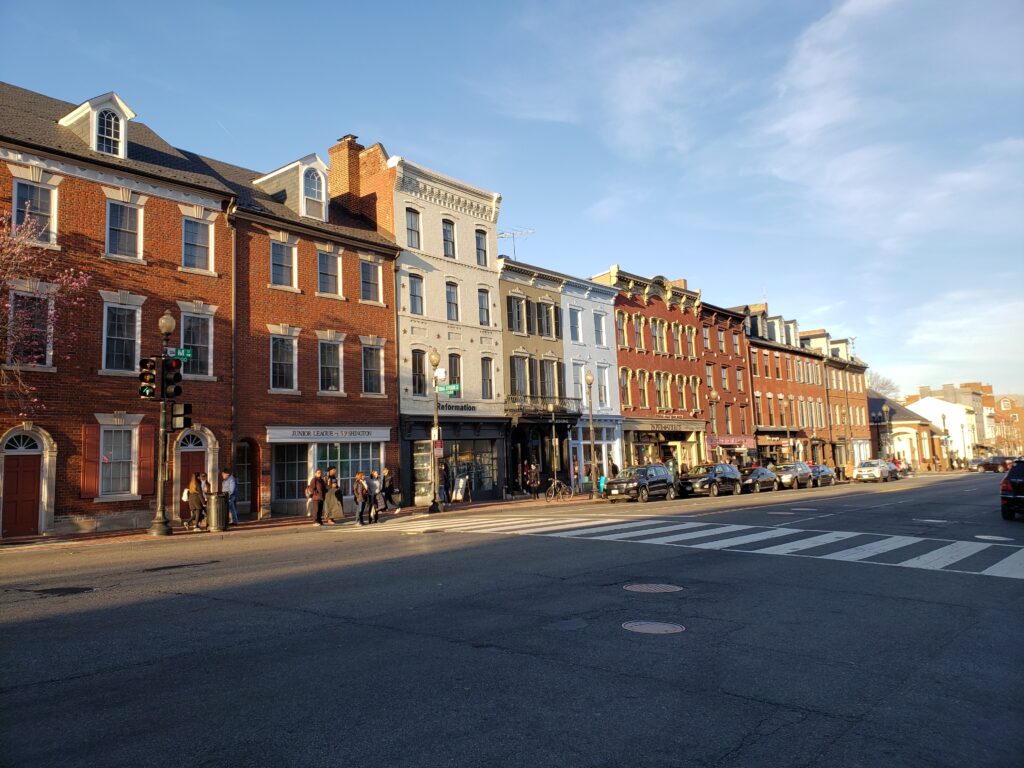 Historic Georgetown: Walk in Famous Footsteps Past Stately Homes 
Enjoy a tranquil two-mile walk through the Georgetown historic district. Witness its lovely architecture, storied past and lively waterfront along the Potomac River and Chesapeake Canal. As you travel Georgetown's tree-lined cobblestone streets, you will learn about the neighborhoods' esteemed residents, past and present. These include Thomas Jefferson, Madeleine Albright, Julia Child—and more! See the Francis Scott Key Memorial and the former home of Jackie Kennedy (the Newton D. Baker House). Stop at the 19th century Gothic-style Christ Episcopal Church, founded in 1817. Prestigious academic institutions we pass include Lydia English Seminary School for Girls, Addison School, and Georgetown Preparatory School. See the Neo-Romanesque style of Georgetown University's flagship campus building:  Healy Hall. Stop at Yellow Tavern (also known as White Horse Tavern), Dunlop House, and Grafton Tyler Double House. See charming pastel homes along Pomander Walk. Walk by Alexander Graham Bell's Volta House, a research laboratory and center for the deaf. Visit the Car Barn, a renovated streetcar depot, and pass Cady's Alley. Check out the Tombs, one of Georgetown students' favorite hotspots. End your tour at the bustling waterfront area, featuring outdoor restaurants and outdoor activities. 
Le Georgetown historique : Marchez sur les traces de célébrités et passez devant des maisons majestueuses. 
Profitez d'une promenade tranquille de trois kilomètres dans le quartier historique de Georgetown. Admirez sa belle architecture, son passé historique et son front de mer animé le long du fleuve Potomac et du canal Chesapeake. En parcourant les rues pavées bordées d'arbres de Georgetown, vous apprendrez à connaître les résidents estimés du quartier, passés et présents. Parmi eux, Thomas Jefferson, Madeleine Albright, Julia Child et bien d'autres ! Allez voir le mémorial Francis Scott Key et l'ancienne maison de Jackie Kennedy la Newton D. Baker House. Arrêtez-vous à l'église épiscopale Christ de style gothique du XIXe siècle, fondée en 1817. Parmi les prestigieuses institutions académiques devant lesquelles nous passons, citons la Lydia English Seminary School for Girls, l'Addison School et la Georgetown Preparatory School. Admirez le style néo-roman de l'édifice phare du campus de l'université de Georgetown :  Healy Hall. Arrêtez-vous à la Yellow Tavern (également connue sous le nom de White Horse Tavern), à la Dunlop House et à la Grafton Tyler Double House. Admirez les charmantes maisons pastel le long de Pomander Walk. Passez devant la Volta House d'Alexander Graham Bell, un laboratoire de recherche et un centre pour les sourds. Visitez le Car Barn, un dépôt de tramways rénové, et passez par Cady's Alley. Allez voir les Tombs, l'un des lieux de prédilection des étudiants de Georgetown. Terminez votre visite par le quartier animé du front de mer, avec ses restaurants et ses activités de plein air.
El histórico Georgetown: Camine tras los pasos de los famosos por las casas señoriales 
Disfrute de un tranquilo paseo de tres kilómetros por el distrito histórico de Georgetown. Sea testigo de su encantadora arquitectura, de su histórico pasado y de su animado paseo marítimo a lo largo del río Potomac y del canal de Chesapeake. Mientras recorre las arboladas calles adoquinadas de Georgetown, conocerá a los estimados residentes del barrio, tanto del pasado como del presente. Entre ellos se encuentran Thomas Jefferson, Madeleine Albright, Julia Child… ¡y muchos más! Vea el monumento a Francis Scott Key y el antiguo hogar de Jackie Kennedy (la casa Newton D. Baker). Deténgase en la Iglesia Episcopal de Cristo, de estilo gótico y del siglo XIX, fundada en 1817. Entre las prestigiosas instituciones académicas por las que pasamos se encuentran el Lydia English Seminary School for Girls, el Addison School y el Georgetown Preparatory School. Contemple el estilo neorrománico del edificio insignia del campus de la Universidad de Georgetown:  Healy Hall. Deténgase en Yellow Tavern (también conocida como White Horse Tavern), Dunlop House y Grafton Tyler Double House. Contemple las encantadoras casas de color pastel a lo largo de Pomander Walk. Pase por la Casa Volta de Alexander Graham Bell, un laboratorio de investigación y centro para sordos. Visite el Car Barn, un depósito de tranvías renovado, y pase por Cady's Alley. Visite las Tumbas, uno de los lugares favoritos de los estudiantes de Georgetown. Termine su recorrido en la animada zona del paseo marítimo, con restaurantes y actividades al aire libre. 
Georgetown storica: Passeggiata sulle orme dei personaggi famosi tra le case signorili 
Godetevi una tranquilla passeggiata di due miglia attraverso il quartiere storico di Georgetown. Ammirate la sua bella architettura, il suo passato ricco di storia e il suo vivace lungofiume lungo il fiume Potomac e il canale di Chesapeake. Percorrendo le strade alberate e acciottolate di Georgetown, imparerete a conoscere gli stimati residenti del quartiere, passati e presenti. Tra questi Thomas Jefferson, Madeleine Albright, Julia Child e altri ancora! Visitate il Francis Scott Key Memorial e l'ex casa di Jackie Kennedy (la Newton D. Baker House). Fermatevi alla Christ Episcopal Church, in stile gotico del XIX secolo, fondata nel 1817. Tra le prestigiose istituzioni accademiche che si incontrano vi sono la Lydia English Seminary School for Girls, la Addison School e la Georgetown Preparatory School. Ammirate lo stile neoromanico dell'edificio di punta del campus della Georgetown University: Healy Hall. Fermatevi alla Yellow Tavern (nota anche come White Horse Tavern), alla Dunlop House e alla Grafton Tyler Double House. Ammirate le affascinanti case color pastello lungo Pomander Walk. Passate accanto alla Volta House di Alexander Graham Bell, un laboratorio di ricerca e centro per non udenti. Visitate il Car Barn, un deposito di tram ristrutturato, e passate per Cady's Alley. Visitate le Tombe, uno dei luoghi di ritrovo preferiti dagli studenti di Georgetown. Concludete il tour nell'animata zona del lungomare, con ristoranti e attività all'aperto.