Full Day Los Angeles Tour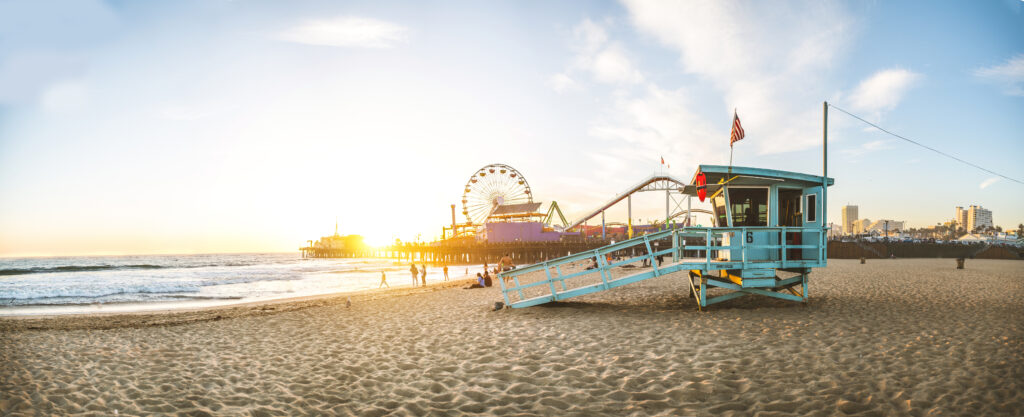 The urban jewel of southern California, Los Angeles is the second-largest city in the United States. With its eclectic neighborhoods that are like cities within the city, this metropolis offers something for everyone! If you want to visit Los Angeles from A to Z, you may need a few months to spare. But to get a good sense of LA and its hot spots, embark on this 8-hour tour with us—traversing the city in a private van.
Los Angeles is adored by many travelers, from families to young adults who come to party. It's full of must-see sights. Beverly Hills is THE chic neighborhood for a lavish shopping session on Rodeo Drive like Julia Roberts in Pretty Woman. It's also a world-famous celebrity district packed with the mansions of the stars.
Stop by Hollywood Boulevard, where you'll have the chance to meet your favorite heroes: Superman, Spiderman, Batman, or even SpongeBob. Check out the Dolby Theater where the Academy Awards (better known as the Oscars) are hosted each year, and imagine yourself walking the red carpet and being blinded by the flashbulbs.
Santa Monica is a gorgeous family beach with an amusement park, including the mythical Ferris wheel on the pier. If you prefer a more animated beach, visit Venice Beach to gaze upon people surfing, rollerblading, skateboarding and more. Nearby Muscle Beach is the birthplace of the US physical fitness boom—it began in 1934 as an outdoor gym on the south side of the Santa Monica Pier and is still going strong today.
Joyau urbain du sud de la Californie, Los Angeles est la deuxième plus grande ville des États-Unis. Avec ses quartiers éclectiques qui sont autant de villes dans la ville, cette métropole offre quelque chose pour tout le monde! Si vous souhaitez visiter Los Angeles de A à Z, il vous faudra peut-être quelques mois. Mais pour avoir une bonne idée de LA et de ses lieux branchés, embarquez avec nous pour ce tour de 8 heures, en parcourant la ville dans un van privé.
Los Angeles est adorée par de nombreux voyageurs, des familles aux jeunes adultes qui viennent faire la fête. Elle regorge de sites incontournables. Beverly Hills est LE quartier chic pour une séance de shopping de luxe sur Rodeo Drive comme Julia Roberts dans Pretty Woman. C'est aussi un quartier de célébrités mondialement connu qui regorge de manoirs de stars.
Arrêtez-vous sur Hollywood Boulevard, où vous aurez la chance de rencontrer vos héros préférés : Superman, Spiderman, Batman, ou même Bob l'éponge. Allez voir le Dolby Theater où sont organisés chaque année les Academy Awards (plus connus sous le nom d'Oscars), et imaginez-vous en train de marcher sur le tapis rouge et d'être aveuglé par les flashs.
Santa Monica est une magnifique plage familiale avec un parc d'attractions, comprenant la mythique grande roue sur la jetée. Si vous préférez une plage plus animée, rendez-vous à Venice Beach pour admirer les gens qui font du surf, du roller, du skateboard et autres. La plage voisine de Muscle Beach est le berceau du boom du fitness aux États-Unis. Elle a commencé en 1934 sous la forme d'une salle de sport en plein air sur le côté sud de la jetée de Santa Monica et elle est toujours en activité aujourd'hui.
Los Ángeles, la joya urbana del sur de California, es la segunda ciudad más grande de Estados Unidos. Con sus eclécticos barrios que son como ciudades dentro de la ciudad, esta metrópolis ofrece algo para todos. Si quiere visitar Los Ángeles de la A a la Z, está disponible que necesite unos cuantos meses de sobra. Pero para hacerse una idea de Los Ángeles y de sus puntos más interesantes, embárquese en este recorrido de 8 horas con nosotros, recorriendo la ciudad en una furgoneta privada.
Los Ángeles es adorada por muchos viajeros, desde familias hasta jóvenes adultos que vienen de fiesta. Está llena de lugares de visita obligada. Beverly Hills es EL barrio más elegante para ir de compras por Rodeo Drive como Julia Roberts en Pretty Woman. También es un distrito de celebridades mundialmente famoso, repleto de las mansiones de las estrellas.
Pase por Hollywood Boulevard, donde tendrá la oportunidad de conocer a sus héroes favoritos: Superman, Spiderman, Batman o incluso Bob Esponja. Visita el Dolby Theater, donde se celebran cada año los Premios de la Academia (más conocidos como los Oscar), e imagínate caminando por la alfombra roja y siendo cegado por los flashes.
Santa Mónica es una preciosa playa familiar con un parque de atracciones, que incluye la mítica noria en el muelle. Si prefiere una playa más animada, visite Venice Beach para contemplar a la gente haciendo surf, patinando, en monopatín y mucho más. La cercana Muscle Beach es la cuna del boom del fitness en EE. UU.: comenzó en 1934 como un gimnasio al aire libre en el lado sur del muelle de Santa Mónica y aún hoy sigue vigente.
Gioiello urbano della California meridionale, Los Angeles è la seconda città più grande degli Stati Uniti. Con i suoi quartieri eclettici che sono come città nella città, questa metropoli offre qualcosa per tutti! Se volete visitare Los Angeles dalla A alla Z, dovrete avere qualche mese a disposizione. Ma per avere un'idea di Los Angeles e dei suoi luoghi caldi, partecipate a questo tour di 8 ore con noi, attraversando la città a bordo di un furgone privato.
Los Angeles è adorata da molti viaggiatori, dalle famiglie ai giovani adulti che vengono per divertirsi. È ricca di luoghi imperdibili. Beverly Hills è il quartiere più chic per una sessione di shopping sfarzoso su Rodeo Drive come Julia Roberts in Pretty Woman. È anche il quartiere delle celebrità, famoso in tutto il mondo e ricco di ville delle star.
Fermatevi a Hollywood Boulevard, dove avrete la possibilità di incontrare i vostri eroi preferiti: Superman, Spiderman, Batman o persino SpongeBob. Visitate il Dolby Theater, dove ogni anno si tengono gli Academy Awards (meglio noti come Oscar), e immaginate di camminare sul tappeto rosso e di essere accecati dai flash.
Santa Monica è una splendida spiaggia per famiglie con un parco divertimenti, tra cui la mitica ruota panoramica sul molo. Se preferite una spiaggia più movimentata, visitate Venice Beach per ammirare persone che fanno surf, pattini a rotelle, skateboard e altro ancora. La vicina Muscle Beach è il luogo di nascita del boom del fitness negli Stati Uniti, iniziato nel 1934 come palestra all'aperto sul lato sud del molo di Santa Monica e tuttora in vigore.