Discover Chicago & the Skydeck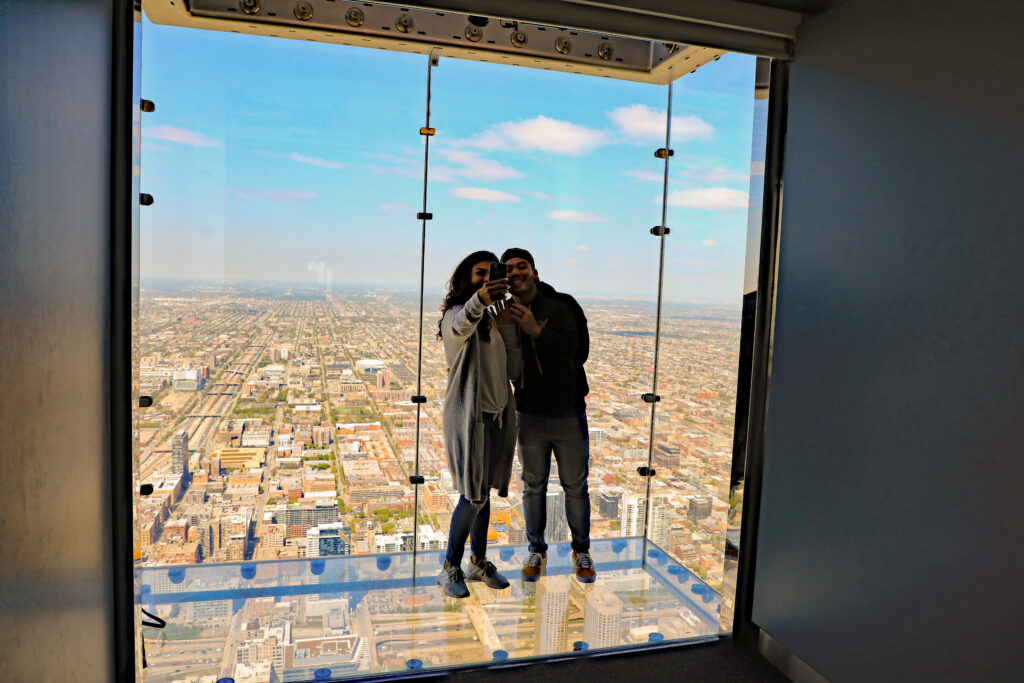 Discover Chicago & Soar Above the City—Visit the Willis Tower Skydeck (4 hours, Offered from April to the end of September/mid-October).
This walking tour will introduce you to the city of Chicago and take you to the highest heights: The 103rd floor Skydeck of the Willis formerly Sears tower. The tour guide will share a brief overview of Chicago's place in time: its storied past, current challenges, and future aspirations. Pass key city sights as you walk to the entrance of this breathtaking tower. Originally built as the headquarters for Sears, Roebuck & Co., Willis tower is the second tallest building in North America. In fact, it was the tallest building in world until the Petras Towers overtook its record in 1996! Enjoy a 60-second ride in a glass elevator–the spectacular views will surely offset the adrenaline-pumping climb. Designed entirely with glass windows, the tower offers the most breathtaking view of Chicago. Bring your compass and take a deep breath; you will hardly be able to take it all in. From fantastic skyscrapers to the sparkling lake Michigan, sprawling green parks, and iconic landmarks—in every direction, Chicago's skyline will captivate you. Ready for a dare? Walk outside on "the Ledge", a 38 cm thick glass ledge suspended in the void. See if this won't make your heart skip a beat!
Découvrir Chicago et Visitez le Skydeck de la Willis Tower (4 heures, Offert d'avril à fin septembre/mi-octobre).
Cette visite à pied vous fera découvrir la ville de Chicago et vous emmènera ensuite vers les plus hauts sommets : Le Skydeck du 103ème étage de la tour Willis anciennement Sears. Le guide vous donnera un bref aperçu de la place de Chicago dans le temps : son passé légendaire, ses défis actuels et ses aspirations futures. Passez devant les principaux sites de la ville tout en marchant jusqu'à l'entrée de cette tour à couper le souffle. Construite à l'origine pour abriter le siège de Sears, Roebuck & Co, la tour Willis est le deuxième plus haut bâtiment d'Amérique du Nord. En fait, elle était le plus haut bâtiment du monde jusqu'à ce que les tours Petras battent son record en 1996 ! Profitez d'un trajet de 60 secondes dans un ascenseur en verre – les vues spectaculaires compenseront sûrement la montée d'adrénaline. Conçue entièrement avec des fenêtres en verre, la tour offre la vue la plus époustouflante de Chicago. Apportez votre boussole et respirez profondément ; vous aurez du mal à tout absorber. Des fantastiques gratte-ciel au lac Michigan étincelant, en passant par les parcs verdoyants et les sites emblématiques – dans toutes les directions, la ligne d'horizon de Chicago vous captivera. Prêt à relever le défi ? Marchez dehors sur "the Ledge", un rebord en verre de 38 cm d'épaisseur suspendu dans le vide. Vous verrez si cela ne fera pas battre votre cœur à tout rompre !
Descubra Chicago y sobrevuele la ciudad: visite el Skydeck de la Torre Willis (4 horas, se ofrece desde abril hasta finales de septiembre/mediados de octubre).
Este recorrido a pie le permitirá conocer la ciudad de Chicago y le llevará a las alturas más elevadas: Los 103rd pisos del Skydeck de la antigua torre Willis Sears. El guía de la visita compartirá con usted una breve descripción del lugar que ocupa Chicago en el tiempo: su histórico pasado, sus retos actuales y sus aspiraciones futuras. Pase por los principales lugares de interés de la ciudad mientras camina hacia la entrada de esta impresionante torre. Construida originalmente como sede de Sears, Roebuck & Co., la torre Willis es el segundo edificio más alto de Norteamérica. De hecho, fue el edificio más alto del mundo hasta que las Torres Petras superaron su récord en 1996. Disfrute de un viaje de 60 segundos en un ascensor de cristal: las espectaculares vistas compensarán sin duda la subida llena de adrenalina. Diseñada íntegramente con ventanas de cristal, la torre ofrece las vistas más impresionantes de Chicago. Traiga su brújula y respire hondo; apenas podrá asimilarlo todo. Desde los fantásticos rascacielos hasta el resplandeciente lago Michigan, los extensos parques verdes y los emblemáticos monumentos, en todas las direcciones, el horizonte de Chicago le cautivará. ¿Preparado para un reto? Camine al aire libre por "The Ledge", una cornisa de cristal de 38 cm de grosor suspendida en el vacío. A ver si así no se le acelera el corazón.
Scoprite Chicago e sorvolate la città: visitate lo Skydeck della Willis Tower (4 ore, offerto da aprile a fine settembre/metà ottobre).
Questo tour a piedi vi introdurrà alla città di Chicago e vi porterà in alto: Lo Skydeck del 103° piano della torre Willis, ex Sears. La guida vi presenterà una breve panoramica della posizione di Chicago nel tempo: il suo passato ricco di storia, le sfide attuali e le aspirazioni future. Passate davanti alle principali attrazioni della città mentre camminate verso l'ingresso di questa torre mozzafiato. Costruita originariamente come sede della Sears, Roebuck & Co, la Willis Tower è il secondo edificio più alto del Nord America. In realtà, è stato l'edificio più alto del mondo fino a quando le Petras Towers hanno superato il suo record nel 1996! Godetevi un giro di 60 secondi in un ascensore di vetro: la vista spettacolare compenserà sicuramente l'adrenalina della salita. Progettata interamente con vetrate, la torre offre la vista più mozzafiato di Chicago. Portate con voi la bussola e fate un respiro profondo: difficilmente riuscirete a cogliere tutto. Dai fantastici grattacieli allo scintillante lago Michigan, ai parchi verdeggianti e agli iconici punti di riferimento, lo skyline di Chicago vi conquisterà in ogni direzione. Siete pronti a osare? Camminate all'aperto su "the Ledge", un cornicione di vetro spesso 38 cm sospeso nel vuoto. Vedrete se questo non vi farà battere il cuore!