Chinatown & North Beach Walking Tour with Lunch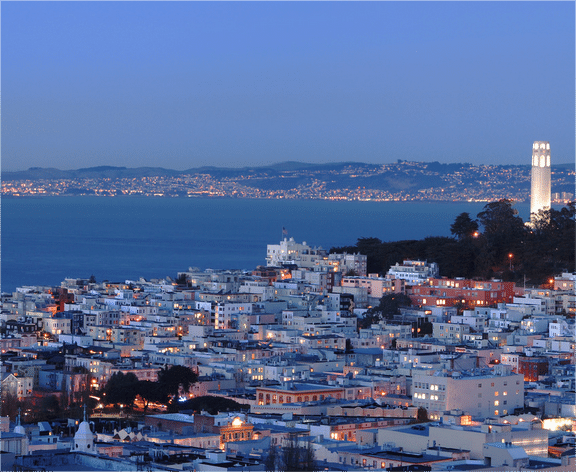 Chinatown, North Beach and Little Italy Walking Tour
Walk through both San Francisco's Chinatown and nearby Little Italy neighborhood, known as North Beach. Learn why San Francisco came to have a Chinatown and how the 1906 Earthquake affected immigration trends. Chinatown's bustling 24 blocks (the oldest in the city!) include traditional shops, tantalizing restaurants, delicious foods such as Dim Sum and Chop Suey, ornate lamp posts, and Pagoda-style architecture. See an open air food market, pass the Great Star Theater, Canton Flower shop, and more of the area's exotic shops.  Rest assured you will have plenty of time to shop!  Visit a Chinese pharmacy to learn about traditional Chinese herbal medicine. Hear Chinese ghost stories. Did you know the fortune cookie was invented right here in San Francisco? Learn about Chinese-American ingenuity in the world famous Fortune Cookie Factory. After Chinatown, walk next door to San Francisco's North Beach, known as little Italy. After the 1906 earthquake, this neighborhood experienced an influx of Northern Italian immigrants. Italian architecture and cuisine still shapes the neighborhood.  Visit "The Italian Cathedral of the West", St. Peter's And Paul's Church (when available). This cathedral has proudly reflected the neighborhood's Italian roots since it was built in 1884.  Nearby, find the heart of the neighborhood, Washington Square Park. Learn about Lillian Hitchcock Coit and the history of Coit Tower. The Tower offers stunning views of San Francisco and murals made by the 1930's Works Progress Administration artists. You may be surprised to find that Little Italy was home to many poets and writers of the Beatnik generation. These include Jack Kerouac, Allen Ginsberg and more. Stop in at their former stomping grounds: City Lights Bookstore. This famous bookseller of world literature and progressive works narrowly escaped closure in 2020. Finish up with an authentic Italian lunch in North Beach.
Chinatown, North Beach et Little Italy – Visite à pied
Promenez-vous dans le quartier chinois de San Francisco et dans le quartier voisin de Little Italy, connu sous le nom de North Beach. Apprenez pourquoi San Francisco a eu un quartier chinois et comment le tremblement de terre de 1906 a affecté les tendances d'immigration. Les 24 pâtés de maisons animés de Chinatown (les plus anciens de la ville !) comprennent des boutiques traditionnelles, des restaurants alléchants, des aliments délicieux comme le Dim Sum et le Chop Suey, des lampadaires ornés et une architecture de style pagode. Découvrez un marché alimentaire en plein air, passez devant le Great Star Theater, le magasin de fleurs de Canton et d'autres boutiques exotiques de la région.  Soyez assurés que vous aurez tout le temps de faire du shopping !  Visitez une pharmacie chinoise pour découvrir la médecine traditionnelle chinoise à base de plantes. Écoutez les histoires de fantômes chinois. Saviez-vous que le fortune cookie a été inventé ici même à San Francisco ? Découvrez l'ingéniosité des Américains d'origine chinoise dans la célèbre Fortune Cookie Factory. Après Chinatown, passez à côté de North Beach, la petite Italie de San Francisco. Après le tremblement de terre de 1906, ce quartier a connu un afflux d'immigrants italiens du Nord. L'architecture et la cuisine italiennes façonnent toujours le quartier.  Visitez "la cathédrale italienne de l'Ouest", l'église Saint-Pierre et Saint-Paul (si disponible). Cette cathédrale reflète fièrement les racines italiennes du quartier depuis sa construction en 1884.  À proximité, vous trouverez le cœur du quartier, le Washington Square Park. Découvrez Lillian Hitchcock Coit et l'histoire de la Coit Tower. La tour offre une vue imprenable sur San Francisco et des peintures murales réalisées par les artistes de la Works Progress Administration dans les années 1930. Vous serez peut-être surpris d'apprendre que Little Italy a accueilli de nombreux poètes et écrivains de la génération Beatnik. Parmi eux, Jack Kerouac, Allen Ginsberg et bien d'autres. Arrêtez-vous dans leurs anciens lieux de prédilection : La librairie City Lights. Ce célèbre libraire de littérature mondiale et d'ouvrages progressistes a échappé de peu à la fermeture en 2020. Terminez par un authentique déjeuner italien à North Beach si vous souhaitez rester dans le quartier après la fin de votre visite.
Recorrido a pie por Chinatown, North Beach y Little Italy
Pasee por el barrio chino de San Francisco y por el cercano barrio de Little Italy, conocido como North Beach. Aprenda por qué San Francisco llegó a tener un barrio chino y cómo el terremoto de 1906 afectó a las tendencias de la inmigración. Las bulliciosas 24 manzanas de Chinatown (¡las más antiguas de la ciudad!) incluyen tiendas tradicionales, tentadores restaurantes, deliciosas comidas como el Dim Sum y el Chop Suey, adornadas farolas y arquitectura de estilo pagoda. Vea un mercado de alimentos al aire libre, pase por el Teatro de la Gran Estrella, la Floristería de Cantón y otras tiendas exóticas de la zona.  Puede estar seguro de que tendrá mucho tiempo para comprar.  Visite una farmacia china para conocer la medicina tradicional china a base de hierbas. Escuche historias de fantasmas chinos. ¿Sabía que la galleta de la fortuna se inventó aquí mismo, en San Francisco? Conozca el ingenio chino-americano en la mundialmente famosa Fábrica de Galletas de la Fortuna. Después de Chinatown, camine hasta la North Beach de San Francisco, conocida como la pequeña Italia. Tras el terremoto de 1906, este barrio experimentó una afluencia de inmigrantes del norte de Italia. La arquitectura y la cocina italianas siguen dando forma al barrio.  Visite la "catedral italiana del oeste", la iglesia de San Pedro y San Pablo (cuando esté disponible). Esta catedral refleja con orgullo las raíces italianas del barrio desde su construcción en 1884.  Cerca de allí se encuentra el corazón del barrio, Washington Square Park. Conozca a Lillian Hitchcock Coit y la historia de la Torre Coit. La Torre ofrece unas vistas impresionantes de San Francisco y murales realizados por los artistas de la Works Progress Administration de 1930. Le sorprenderá saber que Little Italy fue el hogar de muchos poetas y escritores de la generación Beatnik. Entre ellos, Jack Kerouac, Allen Ginsberg y otros. Pásese por su antiguo lugar de residencia: La librería City Lights. Esta famosa librería de literatura mundial y obras progresistas se salvó por poco del cierre en 2020. Termine con un auténtico almuerzo italiano en North Beach.
Tour a piedi di Chinatown, North Beach e Little Italy
Passeggiate attraverso la Chinatown di San Francisco e il vicino quartiere di Little Italy, noto come North Beach. Scoprite perché San Francisco ha avuto una Chinatown e come il terremoto del 1906 ha influenzato le tendenze dell'immigrazione. Gli animati 24 isolati di Chinatown (i più antichi della città!) comprendono negozi tradizionali, ristoranti allettanti, cibi deliziosi come il Dim Sum e il Chop Suey, lampioni decorati e architettura in stile pagoda. Ammirate un mercato alimentare all'aperto, passate davanti al Great Star Theater, al negozio di fiori di Canton e ad altri negozi esotici della zona.  Avrete tutto il tempo per fare acquisti!  Visitate una farmacia cinese per conoscere la medicina tradizionale cinese a base di erbe. Ascoltate le storie di fantasmi cinesi. Sapevate che il biscotto della fortuna è stato inventato proprio qui a San Francisco? Scoprite l'ingegno cinese-americano nella famosa fabbrica dei biscotti della fortuna. Dopo Chinatown, camminate fino alla North Beach di San Francisco, conosciuta come Little Italy. Dopo il terremoto del 1906, questo quartiere ha visto l'afflusso di immigrati italiani del Nord. L'architettura e la cucina italiana caratterizzano ancora il quartiere.  Visitate la "Cattedrale italiana dell'Ovest", la chiesa di San Pietro e Paolo (se disponibile). Questa cattedrale riflette con orgoglio le radici italiane del quartiere sin dalla sua costruzione nel 1884.  Nelle vicinanze si trova il cuore del quartiere, Washington Square Park. Scoprite Lillian Hitchcock Coit e la storia della Coit Tower. La torre offre una vista mozzafiato di San Francisco e murales realizzati dagli artisti della Works Progress Administration del 1930. Potreste essere sorpresi di scoprire che Little Italy è stata la casa di molti poeti e scrittori della generazione Beatnik. Tra questi, Jack Kerouac, Allen Ginsberg e altri. Fate un salto nei loro vecchi luoghi di residenza: City Lights Bookstore. Questa famosa libreria di letteratura mondiale e opere progressiste ha evitato per poco la chiusura nel 2020. Concludete con un autentico pranzo italiano a North Beach.