Architectural River Cruise and Guided Walking tour of Chicago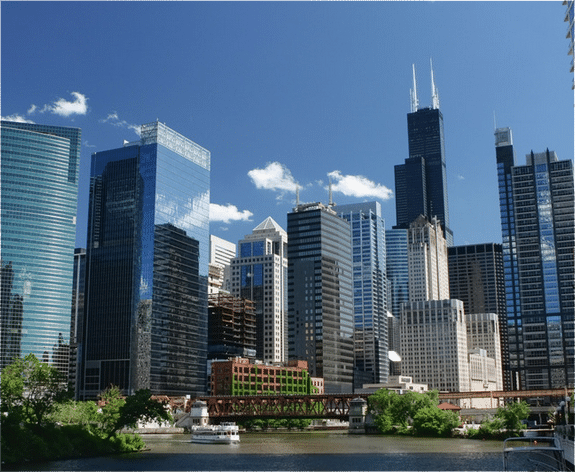 Architecture River Cruise and Walking Tour with a tour guide
(½ day tour)

Born of the Great Fire, Chicago's booming steel industry, and an indomitable spirit, skyscrapers were invented here in 1885… and we have the best way to see them. Join us for 90 minutes of genuinely tall tales and head-turning sights from the breathtaking vantage point of our cruise deck. Our tour, aboard the Chicago Architectural Cruise, departs from Navy Pier. It then travels down the main branch of the Chicago River, up the north branch to the East Bank Club, and then south past Willis Tower formerly Sears Tower to the old Post Office Building. The cruise is led by a knowledgeable architecture professional who will provide detailed descriptions of more than forty buildings seen on the river cruise. You will see a variety of architectural styles—including art deco, neo-Gothic, Chicago-school style, Mid-Century Modern, and more! After this, we will continue with a walking tour to see the amazing skyscrapers from the ground, while strolling leisurely through Chicago.
Croisière sur l'architecture et visite à pied avec un guide touristique
(½ journée)
Nés du grand incendie, de l'industrie sidérurgique florissante de Chicago et d'un esprit indomptable, les gratte-ciel ont été inventés ici en 1885… et nous avons la meilleure façon de les découvrir. Rejoignez-nous pour 90 minutes d'histoires à dormir debout et de vues qui font tourner la tête, depuis le point de vue époustouflant de notre pont de croisière. Notre visite, à bord de la Chicago Architectural Cruise, part de Navy Pier. Elle descend le bras principal de la rivière Chicago, remonte le bras nord jusqu'au East Bank Club, puis se dirige vers le sud en passant par la Willis Tower anciennement Sears Tower jusqu'à l'ancien Post Office Building. La croisière est conduite par un professionnel de l'architecture bien informé qui fournira des descriptions détaillées de plus de quarante bâtiments vus au cours de la croisière fluviale. Vous verrez une variété de styles architecturaux, dont l'art déco, le néogothique, le style de l'école de Chicago, le Mid-Century Modern, et bien d'autres encore ! Ensuite, nous poursuivrons avec une visite à pied pour voir les étonnants gratte-ciel depuis le sol, tout en flânant tranquillement dans Chicago.
Crucero arquitectónico por el río y recorrido a pie con un guía turístico – (recorrido de ½ día)
Nacidos del Gran Incendio, de la floreciente industria del acero de Chicago y de un espíritu indomable, los rascacielos se inventaron aquí en 1885… y nosotros tenemos la mejor manera de verlos. Acompáñenos durante 90 minutos de auténticas historias y vistas que le dejarán boquiabierto desde el impresionante punto de vista de nuestra cubierta de crucero. Nuestro recorrido, a bordo del Chicago Architectural Cruise, parte del Navy Pier. A continuación, recorre el brazo principal del río Chicago, sube por el brazo norte hasta el East Bank Club, y luego va hacia el sur, pasando por la Torre Willis, antigua Torre Sears, hasta el antiguo edificio de Correos. El crucero está dirigido por un profesional de la arquitectura bien informado que le proporcionará descripciones detalladas de más de cuarenta edificios vistos en el crucero fluvial. Verá una gran variedad de estilos arquitectónicos, como el art decó, el neogótico, el estilo de la escuela de Chicago, el moderno de mediados de siglo y mucho más. Después, continuaremos con una visita a pie para ver los increíbles rascacielos desde el suelo, mientras paseamos tranquilamente por Chicago.
Crociera architettonica sul fiume e tour a piedi con guida turistica – (tour di ½ giornata)
Nati dal Grande Incendio, dal boom dell'industria siderurgica di Chicago e da uno spirito indomito, i grattacieli sono stati inventati qui nel 1885… e noi abbiamo il modo migliore per vederli. Unisciti a noi per 90 minuti di storie davvero alte e di panorami da far girare la testa dal punto di vista mozzafiato del nostro ponte di crociera. Il nostro tour, a bordo della Chicago Architectural Cruise, parte dal Navy Pier. Si scende lungo il ramo principale del fiume Chicago, si risale il ramo nord fino all'East Bank Club e poi a sud, passando davanti alla Willis Tower e alla Sears Tower, fino al vecchio Post Office Building. La crociera è guidata da un esperto di architettura che fornirà descrizioni dettagliate di oltre quaranta edifici visti durante la navigazione fluviale. Vedrete una varietà di stili architettonici, tra cui art déco, neogotico, stile Chicago-school, Mid-Century Modern e altro ancora! Dopo di che, continueremo con un tour a piedi per vedere gli incredibili grattacieli da terra, passeggiando tranquillamente per Chicago.