Carriage Ride of New Orleans Past and Present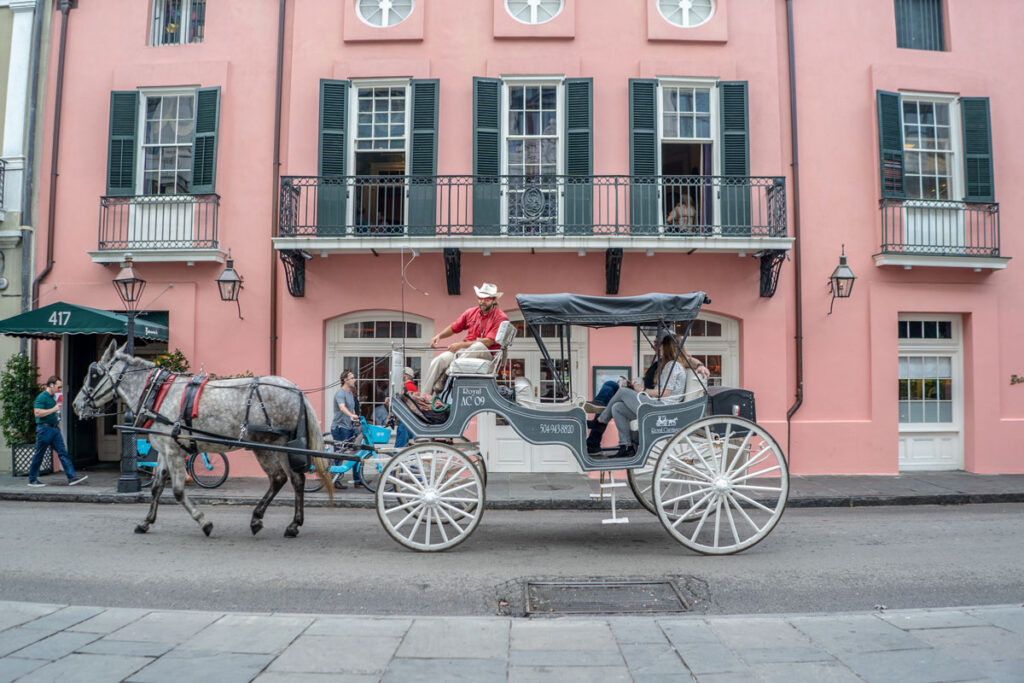 A Enchanted Carriage Ride: New Orleans Past and Present (1 hour) 
Find love at first sight: travel by carriage ride into the romantic past of New Orleans. MAD Tours takes you on a leisurely tour to the well-preserved charming Faubourg-Marigny neighborhood. Here you will be dazzled by the colorful architecture, a unique fusion of Colonial 1800s French, Spanish and Caribbean architecture. This beautiful landscape showcases historic homes, trendy clubs and restaurants, and a vibrant musical and arts scene. You will also pass by Jackson Square, Napoleon House and stately St. Louis Cathedral. From this idyllic setting, get ready to experience New Orleans' rowdy Bourbon Street. Witness one of the world's most unique parties, on a street that features an eclectic blend of jazz clubs, restaurants, neon lights and Mardi Gras beads. Want souvenir beads?  Your tour guide can explain a few ways to get them.  Have peace of mind knowing that group carriage tours are conducted at a leisurely pace and in small groups of no more than 8 passengers per carriage. A private carriage tour for 1 to 4 passengers is available.  
Une promenade en calèche enchantée : la Nouvelle-Orléans d'hier et d'aujourd'hui (1 heure) 
Trouvez le coup de foudre : voyagez en calèche dans le passé romantique de la Nouvelle-Orléans. MAD Tours vous emmène pour un tour tranquille dans le charmant quartier bien préservé du Faubourg-Marigny. Ici, vous serez ébloui par l'architecture colorée, une fusion unique de l'architecture coloniale française, espagnole et caribéenne des années 1800. Ce magnifique paysage présente des maisons historiques, des clubs et des restaurants branchés, ainsi qu'une scène musicale et artistique dynamique. Vous passerez également par Jackson Square, la maison de Napoléon et l'imposante cathédrale Saint-Louis. Depuis ce cadre idyllique, préparez-vous à découvrir la tumultueuse Bourbon Street de la Nouvelle-Orléans. Assistez à l'une des fêtes les plus uniques au monde, dans une rue qui présente un mélange éclectique de clubs de jazz, de restaurants, de néons et de perles de Mardi Gras. Vous voulez des perles en souvenir ?  Votre guide touristique pourra vous expliquer les différentes façons de les obtenir.  Ayez l'esprit tranquille en sachant que les visites de groupe en calèche se déroulent à un rythme tranquille et en petits groupes de 4 passagers maximum par calèche. 
Paseo en carruaje por el pasado y el presente de Nueva Orleans (1 hora) 
Encuentre el amor a primera vista: viaje en carruaje al pasado romántico de Nueva Orleans. Mad Tours le lleva en un tranquilo recorrido al bien conservado y encantador barrio de Faubourg-Marigny. Aquí quedará deslumbrado por la colorida arquitectura, una fusión única de la arquitectura colonial francesa, española y caribeña del siglo XIX. Este bello paisaje muestra casas históricas, clubes y restaurantes de moda, y una vibrante escena musical y artística. También pasará por Jackson Square, la Casa de Napoleón y la majestuosa Catedral de San Luis. Desde este idílico entorno, prepárese para vivir la bulliciosa Bourbon Street de Nueva Orleans. Sea testigo de una de las fiestas más singulares del mundo, en una calle que presenta una mezcla ecléctica de clubes de jazz, restaurantes, luces de neón y abalorios de Mardi Gras. ¿Quiere artículos de recuerdo?  Su guía turístico puede explicarle algunas formas de conseguirlas.  Tenga la tranquilidad de saber que los recorridos en carruaje en grupo se realizan a un ritmo pausado y en pequeños grupos de no más de 8 pasajeros por carruaje. Se puede realizar un recorrido privado en carruaje para 1 a 4 pasajeros. 
Un giro in carrozza incantato: New Orleans passato e presente (1 ora) 
Trovate l'amore a prima vista: viaggiate in carrozza nel passato romantico di New Orleans. MAD Tours vi accompagna in un piacevole tour nell'affascinante quartiere ben conservato di Faubourg-Marigny. Qui rimarrete abbagliati dall'architettura colorata, una fusione unica di architettura coloniale francese, spagnola e caraibica del 1800. Questo splendido paesaggio presenta case storiche, locali e ristoranti alla moda e una vivace scena musicale e artistica. Passerete anche da Jackson Square, dalla Napoleon House e dalla maestosa Cattedrale di St. Louis. Da questo scenario idilliaco, preparatevi a vivere la chiassosa Bourbon Street di New Orleans. Assistete a una delle feste più singolari del mondo, in una strada che presenta una miscela eclettica di jazz club, ristoranti, luci al neon e perline del Martedì Grasso. Volete delle perline come souvenir?  La guida turistica vi illustrerà alcuni modi per ottenerle.  Siate tranquilli: i tour di gruppo in carrozza sono condotti a un ritmo piacevole e in piccoli gruppi di non più di 8 passeggeri per carrozza. È disponibile un tour privato in carrozza per 1-4 passeggeri.