The Big Easy: African-American Art and Culture & the Origin of New Orleans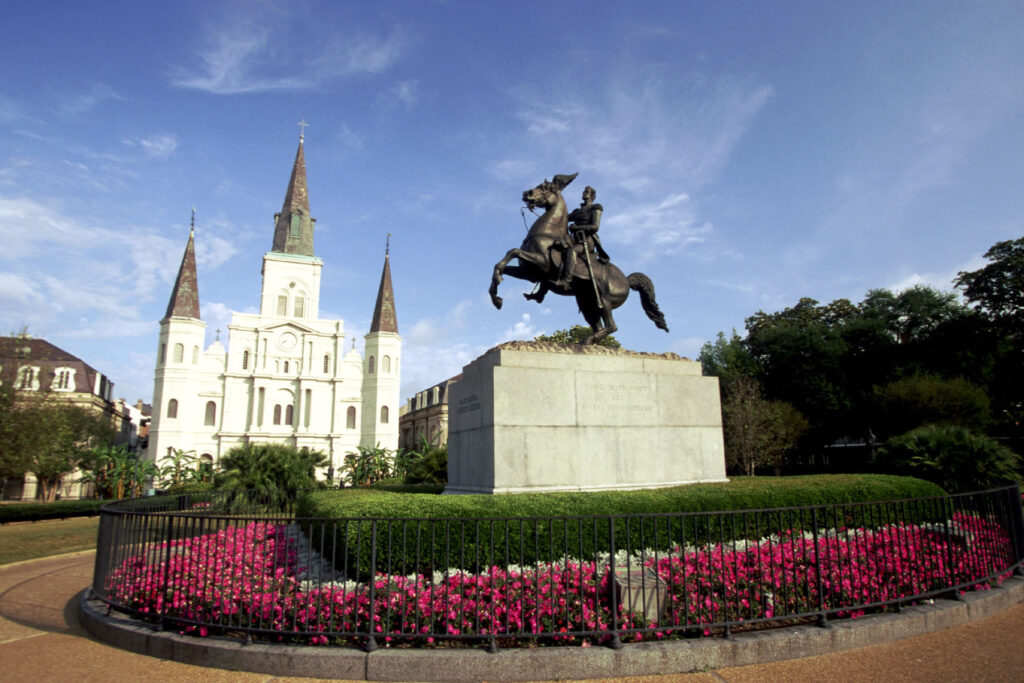 The Big Easy: African-American Art and Culture & the Origin of New Orleans 
Highlights: French Quarter, Saint Louis Cathedral, Jackson Square, tour of BE Studios and JAMNOLA experiential art exhibit. (Walking tour and 2 hours by sedan, 4h30)
Start your walking adventure in the historic French quarter. After an overview of New Orleans' history, your guide will spend the first two hours leading you on foot through the heart of the City. You will visit the places that made New Orleans famous, such as St. Louis Cathedral and Jackson Square. See the mighty Mississippi River, inspiration for American author Mark Twain's "Huckleberry Finn." Enjoy the sights and sounds of bustling Bourbon Street. Take a detour on a quaint alleyway lined with colorful 18th century homes or duck into a tranquil courtyard. Learn about fascinating African-American and Creole cultural contributions and stories. Be entertained by anecdotes about the zany characters that are emblematic of this exciting city. Next, explore lesser-known treasures like the French Market—a 300 year old convent with hidden courtyards. Head to Studio BE, home to local artist Brandan "Bmike" Odums' first solo project. Odums, along with 40 other artists, collaborated to create large murals and exhibits, which uphold a commitment to activism, resistance to injustice, and tribute to black American history. The visual art housed in this 10,000-square-foot warehouse tells the stories of revolutionaries, heroes and everyday New Orleanians who speak out against racial injustice visually. These moving works will likely renew your sense of compassion, love and understanding. Our last stop is JAMNOLA, which stands for "Joy, Art, and Music–New Orleans, Louisiana." The city's first experiential pop-up museum takes audiences of all ages on an ephemeral art tour of the city's iconic cultural gems. Twelve exhibits by 20 local artists entice visitors to experience famous New Orleans art, music, food and theater in a novel way— sure to leave a lingering impression. When the tour ends, your experienced guide will suggest further opportunities to explore the sights, tastes, and adventures of the Big Easy. 
The Big Easy : Art et culture afro-américains et origine de la Nouvelle-Orléans 
Points forts : Quartier français, cathédrale Saint-Louis, Jackson Square, visite des BE Studios et de l'exposition d'art expérimental JAMNOLA. (Visite à pied et 2 heures en berline, 4h30)
Commencez votre aventure à pied dans le quartier français historique. Après un aperçu de l'histoire de la Nouvelle-Orléans, votre guide passera les deux premières heures à vous conduire à pied au cœur de la ville. Vous visiterez les lieux qui ont rendu la Nouvelle-Orléans célèbre, comme la cathédrale Saint-Louis et Jackson Square. Vous verrez le puissant fleuve Mississippi, qui a inspiré l'auteur américain Mark Twain dans son roman "Huckleberry Finn". Appréciez les images et les sons de la rue animée de Bourbon Street. Faites un détour par une ruelle pittoresque bordée de maisons colorées du XVIIIe siècle ou plongez dans une cour tranquille. Découvrez les fascinantes contributions et histoires culturelles afro-américaines et créoles. Laissez-vous divertir par des anecdotes sur les personnages loufoques qui sont emblématiques de cette ville passionnante. Ensuite, explorez des trésors moins connus comme le French Market, un couvent vieux de 300 ans avec des cours cachées. Rendez-vous au Studio BE, qui abrite le premier projet solo de l'artiste local Brandan "Bmike" Odums. Odums, ainsi que 40 autres artistes, ont collaboré à la création de grandes peintures murales et d'expositions, qui témoignent d'un engagement en faveur de l'activisme, de la résistance à l'injustice et d'un hommage à l'histoire des Noirs américains. L'art visuel abrité dans cet entrepôt de 10 000 pieds carrés raconte l'histoire de révolutionnaires, de héros et de Néo-Orléanais de tous les jours qui s'élèvent visuellement contre l'injustice raciale. Ces œuvres émouvantes renouvelleront probablement votre sens de la compassion, de l'amour et de la compréhension. Notre dernière étape est JAMNOLA, qui signifie "Joie, art et musique – Nouvelle-Orléans, Louisiane". Le premier musée pop-up expérimental de la ville emmène des publics de tous âges dans une visite artistique éphémère des joyaux culturels emblématiques de la ville. Douze expositions réalisées par 20 artistes locaux incitent les visiteurs à découvrir l'art, la musique, la gastronomie et le théâtre célèbres de la Nouvelle-Orléans d'une manière inédite, qui ne manquera pas de laisser une impression durable. À la fin de la visite, votre guide expérimenté vous suggérera d'autres occasions d'explorer les curiosités, les saveurs et les aventures de la Nouvelle-Orléans.
The Big Easy: Arte y cultura afroamericana y el origen de Nueva Orleans 
Lo más destacado: Barrio Francés, Catedral de San Luis, Jackson Square, visita a los Estudios BE y a la exposición de arte experimental JAMNOLA. (Visita a pie y 2 horas en sedán, 4h30)
Comience su aventura a pie en el histórico barrio francés. Tras un repaso de la historia de Nueva Orleans, su guía pasará las dos primeras horas conduciéndole a pie por el corazón de la ciudad. Visitará los lugares que hicieron famosa a Nueva Orleans, como la Catedral de San Luis y Jackson Square. Contemple el caudaloso río Mississippi, inspiración de la obra "Huckleberry Finn" del autor estadounidense Mark Twain. Disfrute de las vistas y los sonidos de la bulliciosa Bourbon Street. Desvíese por un pintoresco callejón bordeado de coloridas casas del siglo XVIII o sumérjase en un tranquilo patio. Conozca las fascinantes aportaciones e historias culturales afroamericanas y criollas. Déjese entretener por las anécdotas de los estrafalarios personajes emblemáticos de esta apasionante ciudad. A continuación, explore tesoros menos conocidos como el Mercado Francés, un convento de 300 años de antigüedad con patios ocultos. Diríjase a Studio BE, sede del primer proyecto en solitario del artista local Brandan "Bmike" Odums". Odums, junto con otros 40 artistas, colaboró en la creación de grandes murales y exposiciones, que mantienen un compromiso con el activismo, la resistencia a la injusticia y el homenaje a la historia negra estadounidense. El arte visual que alberga este almacén de 10.000 pies cuadrados cuenta las historias de revolucionarios, héroes y habitantes de Nueva Orleans que se manifiestan contra la injusticia racial de forma visual. Estas conmovedoras obras probablemente renovarán su sentido de la compasión, el amor y la comprensión. Nuestra última parada es JAMNOLA, que significa "Joy, Art, and Music-New Orleans, Louisiana". El primer museo pop-up experiencial de la ciudad lleva al público de todas las edades a un recorrido artístico efímero por las joyas culturales más emblemáticas de la ciudad. Doce exposiciones de 20 artistas locales atraen a los visitantes a experimentar el famoso arte, la música, la comida y el teatro de Nueva Orleans de una manera novedosa, que seguro dejará una impresión persistente. Al finalizar el recorrido, su experimentado guía le sugerirá otras oportunidades para explorar las vistas, los sabores y las aventuras de la Big Easy. 
The Big Easy: arte e cultura afro-americana e le origini di New Orleans 
Punti salienti: Quartiere francese, Cattedrale di Saint Louis, Jackson Square, tour dei BE Studios e mostra d'arte esperienziale JAMNOLA. (Visita a piedi e 2 ore in berlina, 4h30)
Iniziate la vostra avventura a piedi nello storico quartiere francese. Dopo una panoramica sulla storia di New Orleans, la vostra guida vi condurrà per le prime due ore a piedi nel cuore della città. Visiterete i luoghi che hanno reso famosa New Orleans, come la Cattedrale di St. Louis e Jackson Square. Ammirerete l'imponente fiume Mississippi, fonte di ispirazione per "Huckleberry Finn" dello scrittore americano Mark Twain. Godetevi i panorami e i suoni della vivace Bourbon Street. Fate una deviazione in un caratteristico vicolo fiancheggiato da case colorate del XVIII secolo o immergetevi in un tranquillo cortile. Scoprite gli affascinanti contributi culturali e le storie afroamericane e creole. Lasciatevi intrattenere dagli aneddoti sui personaggi stravaganti che sono l'emblema di questa città emozionante. Esplorate poi tesori meno conosciuti come il French Market, un convento di 300 anni fa con cortili nascosti. Recatevi allo Studio BE, sede del primo progetto personale dell'artista locale Brandan "Bmike" Odums. Odums, insieme ad altri 40 artisti, ha collaborato alla creazione di grandi murales ed esposizioni che sostengono l'impegno all'attivismo, la resistenza alle ingiustizie e il tributo alla storia dei neri americani. L'arte visiva ospitata in questo magazzino di 10.000 metri quadrati racconta le storie di rivoluzionari, eroi e cittadini di New Orleans che si oppongono alle ingiustizie razziali. Queste opere commoventi probabilmente rinnoveranno il vostro senso di compassione, amore e comprensione. La nostra ultima tappa è JAMNOLA, che sta per "Joy, Art, and Music-New Orleans, Louisiana". Il primo museo esperienziale pop-up della città accompagna il pubblico di tutte le età in un tour artistico effimero delle gemme culturali della città. Dodici mostre di 20 artisti locali invitano i visitatori a sperimentare la famosa arte, la musica, il cibo e il teatro di New Orleans in un modo nuovo, che sicuramente lascerà un'impressione persistente. Al termine del tour, la vostra guida esperta vi suggerirà ulteriori opportunità per esplorare i luoghi, i sapori e le avventure della Big Easy.