Paparazzi time! A moment of Stardom!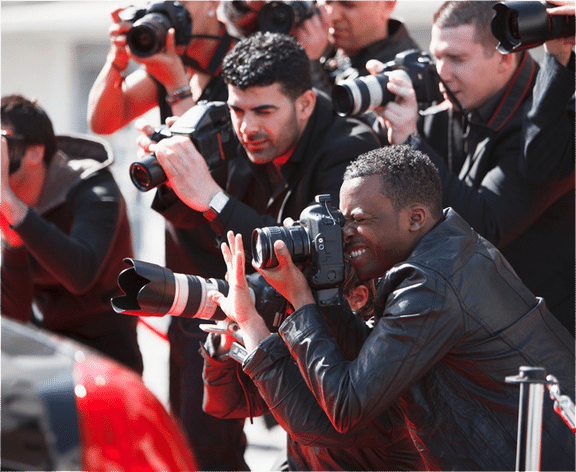 Have you ever dreamed of being in the spotlight for even one day? At MAD Tours you know that we are committed to making your most cherished wishes come true. So don't resist the call of fame and join us to live this unique moment.
Arrive at the exit of your hotel in a limousine where a horde of delirious fans await you! On the left, a dozen teenagers are asking you for autographs; on the right, 1 paparazzi are shooting pictures of you and right in front of you, a journalist and her cameraman are asking you questions for the local TV station!
Put on your best smile for the camera like Ariana Grande or if you prefer to play it like Victoria Beckham with all the nonchalance that characterizes her, go ahead! After all, you're the star of the day! What's up? Not so easy to be famous!
The essentials: Your best outfit, dare to be the star today
N'avez-vous jamais rêvé d'être sous le feu des projecteurs ne serait-ce qu'une journée ? Chez MAD Tours vous savez que nous avons à cœur de réaliser vos vœux les plus chers. Alors ne résistez plus à l'appel de la célébrité et rejoignez-nous pour vivre ce moment unique.
Arrivez au pied de votre hôtel en limousine où vous attends une horde de fan en délire ! A gauche, une dizaine d'adolescents déchainés vous réclament des autographes ; à droite c'est 1 paparazzis qui vous mitraillent de photos et droit devant vous, une journaliste et son caméraman vous assomme de questions pour la télévision locale !
Sortez votre plus beau sourire à la caméra façon Ariana Grande ou si vous préférez vous la jouer à la Victoria Beckham avec toute la nonchalance qui la caractérise, allez-y! Après tout, c'est vous la star du jour ! Alors ? Pas si facile la célébrité !
Les indispensables : Votre plus belle tenue, osez-tout c'est vous la star aujourd'hui
¿Has soñado alguna vez con ser el centro de atención, aunque sea por un día? En MAD Recorridos sabes que nos comprometemos a hacer realidad tus deseos más preciados. Así que no te resistas a la llamada de la fama y acompáñanos a vivir este momento único.
Llegue a la salida de su hotel en una limusina donde le espera una horda de fans delirantes. A la izquierda, una docena de adolescentes te piden autógrafos; a la derecha, 1 paparazzi te hace fotos y justo delante de ti, una periodista y su cámara te hacen preguntas para la televisión local.
Pon tu mejor sonrisa para la cámara como Ariana Grande o si prefieres jugar como Victoria Beckham con toda la despreocupación que la caracteriza, ¡adelante! Al fin y al cabo, ¡eres la estrella del día! ¿Qué pasa? ¡No es tan fácil ser famoso!
Lo esencial: Tu mejor atuendo, atrévete a ser la estrella del día
Avete mai sognato di essere sotto i riflettori anche solo per un giorno? Noi di MAD Tours sappiamo che ci impegniamo a realizzare i vostri desideri più cari. Quindi non resistete al richiamo della fama e unitevi a noi per vivere questo momento unico.
Arrivate all'uscita del vostro hotel in limousine dove vi aspetta un'orda di fan in delirio! A sinistra, una dozzina di adolescenti vi chiedono autografi; a destra, 1 paparazzo vi fotografa e, proprio di fronte a voi, una giornalista e il suo cameraman vi fanno domande per la televisione locale!
Sfoderate il vostro miglior sorriso per la telecamera come Ariana Grande o, se preferite, fate come Victoria Beckham con tutta la nonchalance che la caratterizza, fate pure! Dopo tutto, siete voi la star del giorno! Cosa succede? Non è così facile essere famosi!
L'essenziale: Il vostro abito migliore, osate essere la star di oggi